750,000+
People Reached
Emergency Relief
As COVID-19 viral infections ramped up in the world for a second straight year through variant mutations — with wars, climate disasters, and their disease fallout swelling in the humanitarian background — you doubled down on your worldwide support for our two-tiered program of relief: distributing essential medical assistance, and delivering critical food and clean water relief on five continents.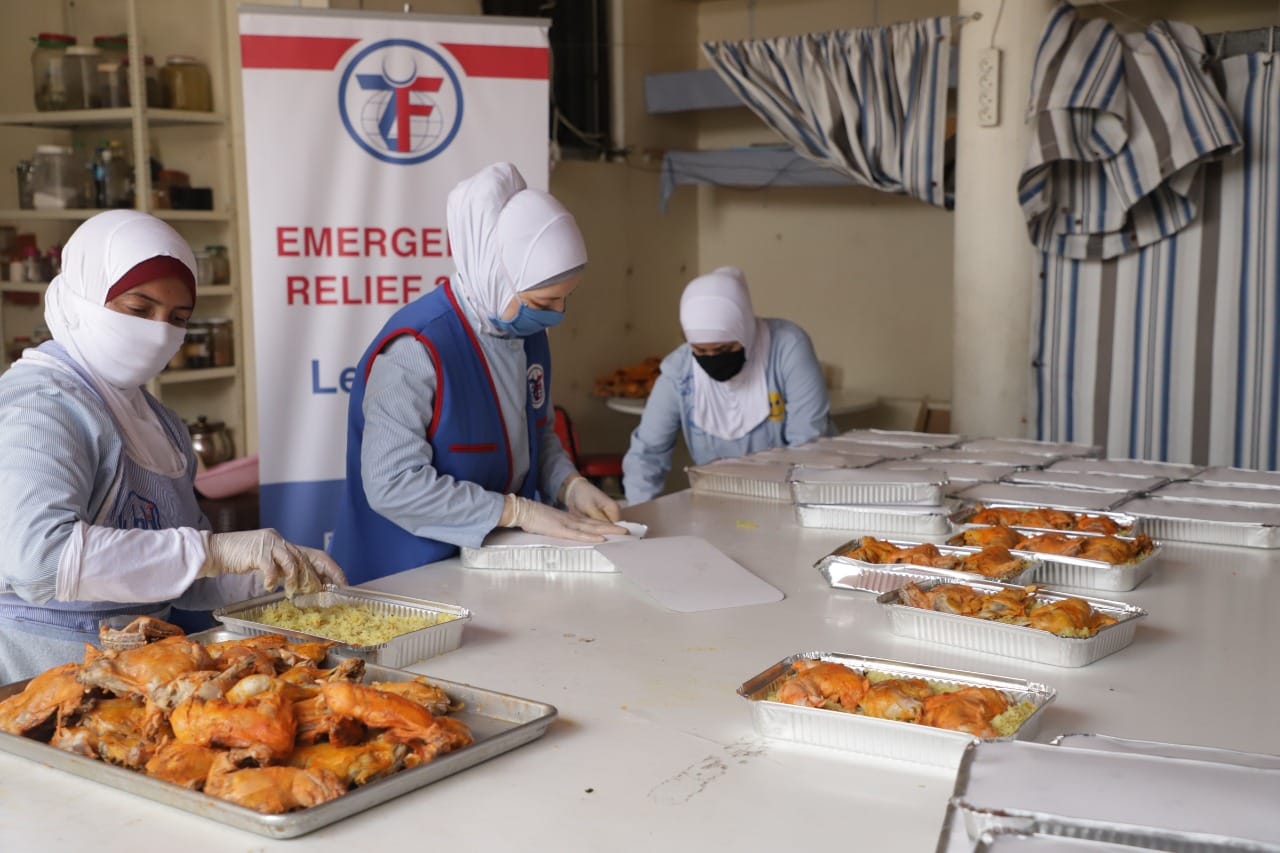 Middle East
The emergency food-baskets you provided reached more than 6,000 people in war- and disease-ravaged Yemen, while you fed nearly 13,500 in Gaza, Palestine. Additionally, your donations supported the critical schooling needs of more than 55,000 children in Palestine.
After the Beirut port blast, you rushed winter food relief to more than 11,000 people — many of them Syrian refugees — in politically unstable Lebanon and directly aided four months of wreckage clean-up in an area serving 15,000 people.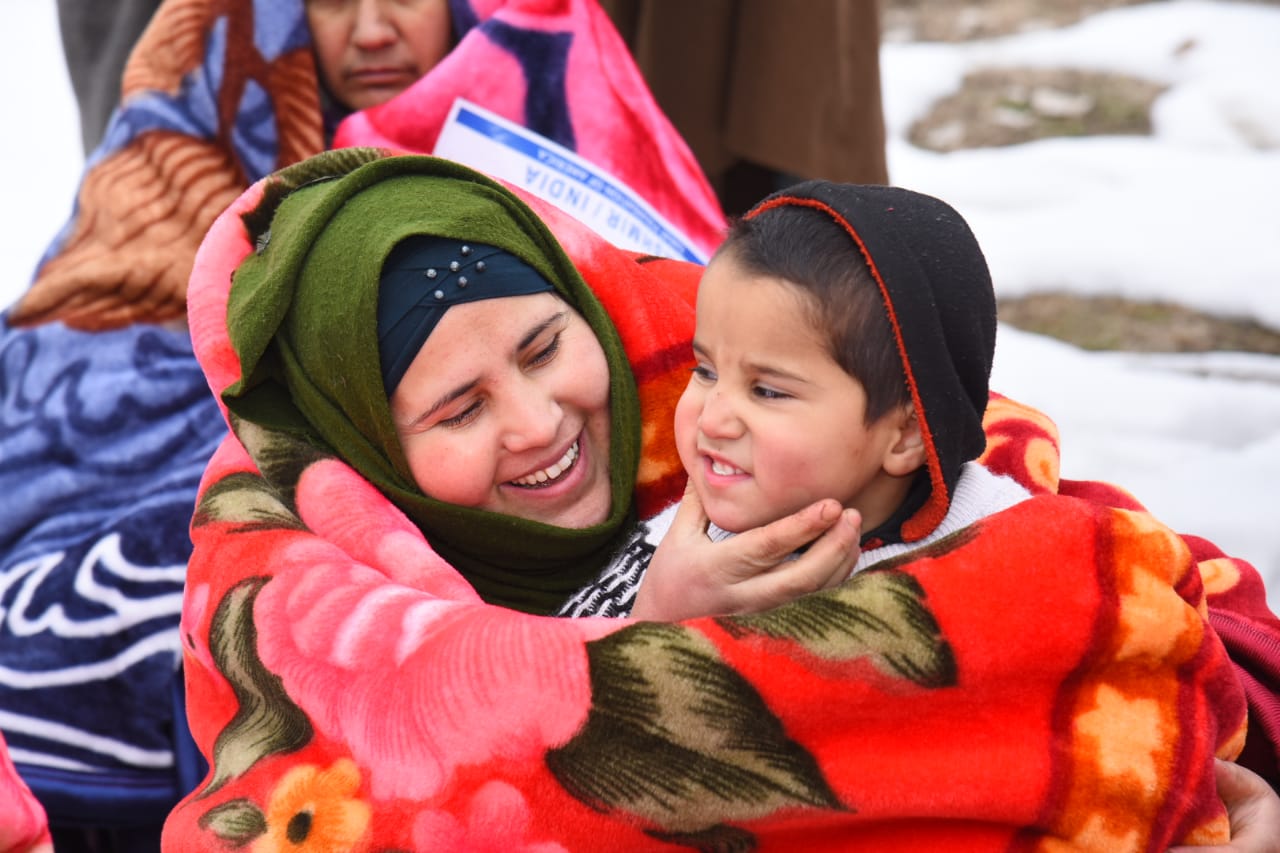 The Subcontinent
Your gifts provided emergency winter relief, food staples, and water to victims of the worst flooding in Hyderabad in 117 years. In occupied Kashmir, you helped hundreds with winter relief — including 326 orphaned boys and girls — as well as the Rohingya refugees of Bangladesh and thousands more in Nepal. You also fed thousands of stranded laborers' families in the slum areas of Delhi and Uttar Pradesh.
In addition, you rushed desperately needed oxygen supplies for the emergency relief of COVID-19 intensive care unit (ICU) patients when India's hospitals suffered critical shortfalls.
Your donations provided thousands in Pakistan with emergency food relief (including baby food and formula for children), while delivering emergency flood relief (including sustaining food packages and water) to Sindh province for thousands.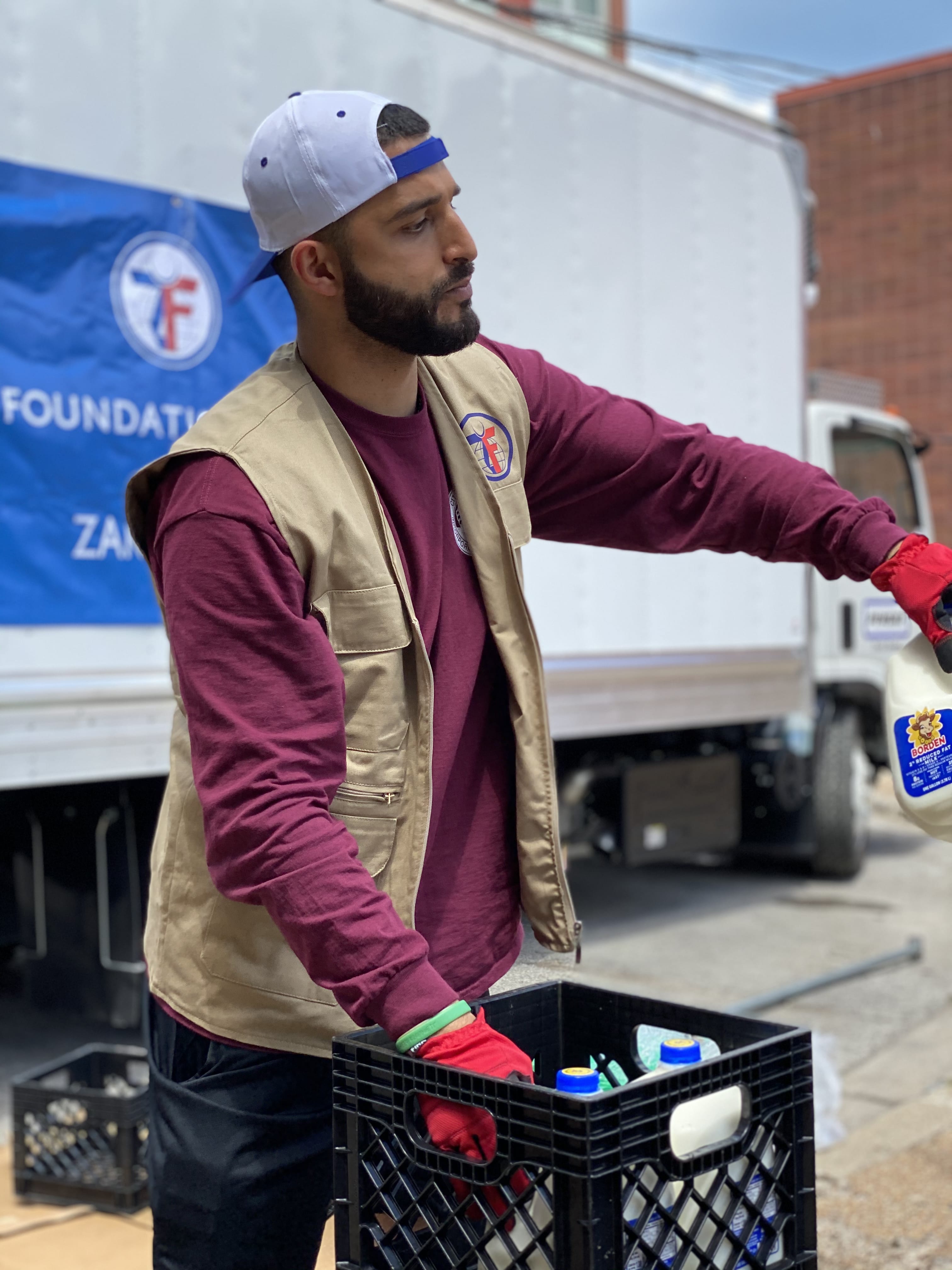 The Americas
You continued to support Zakat Foundation of America's critically acclaimed pandemic farm-fresh food distribution program for thousands throughout the United States, while also supplying winter relief blankets and coverings to the most vulnerable and impoverished communities hit by COVID-19 in Argentina.
This is one of two programs from which Zakat Foundation of America does not take any overhead costs, administrative fees or anything else. Every penny of every dollar donated to the Emergency Relief program goes to humanitarian work, none of it to the people implementing it or the organization at large.
Food Security
Together, you and your Zakat Foundation field workers and aid experts gathered, prepared, and hand-distributed millions of pounds of highly nutritious and good calorie-packed food bundles to some families that did not know when their next meals would come. These food gifts fed these families daily for up to two months.
4.5
Million Meals Donated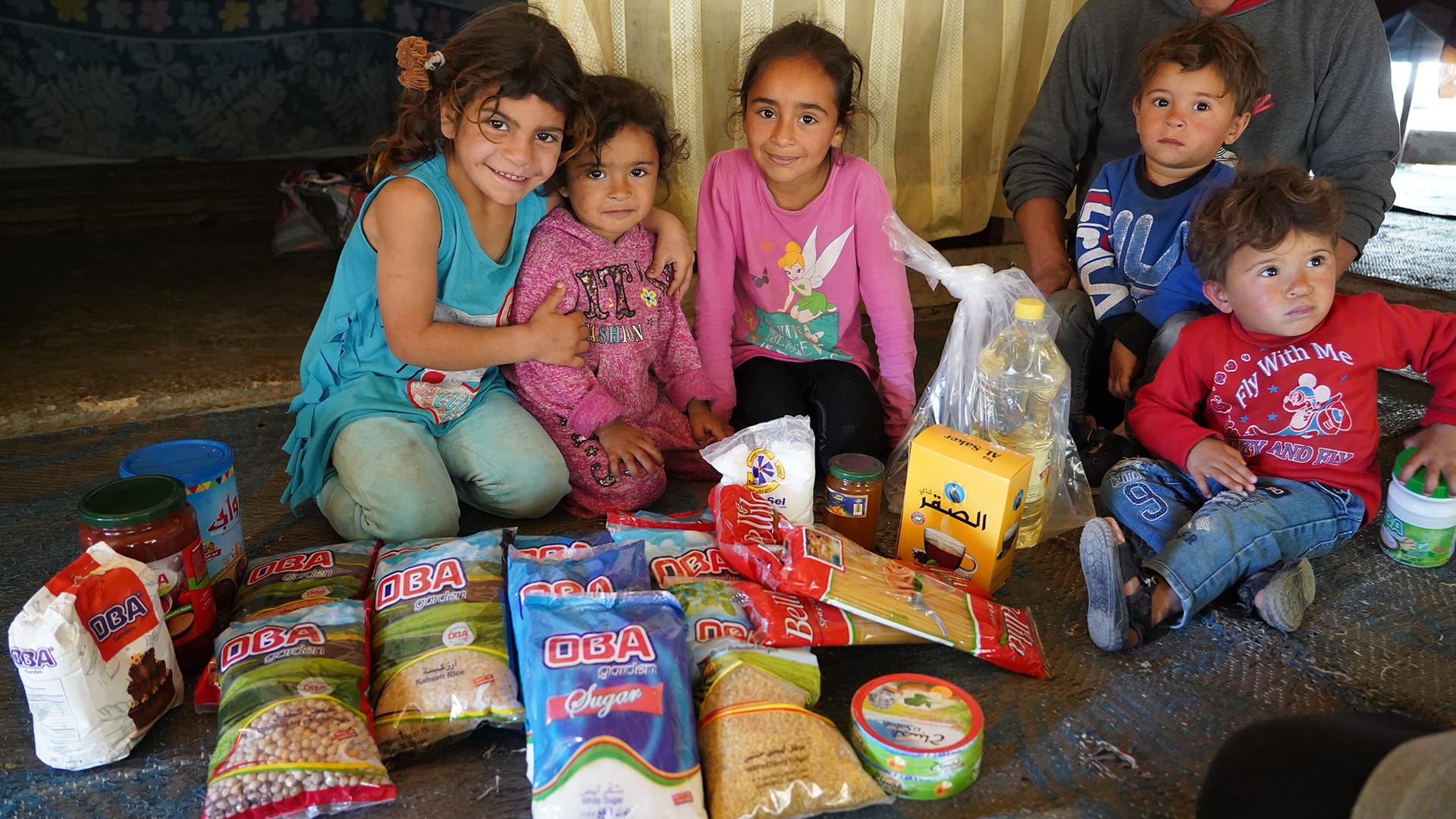 Ramadan & Udhiyah
During Ramadan alone, your aid provided more than 1.4 million pounds of food in addition to more than 514,000 warm meals. And when it comes to food packages that you donated to last a family of five for the entire month, you gave more than 2.67 million meals. That doesn't include the United States. Where we plated more than 440,000 meals, far exceeding our goal of 100,000 meals.
Just in Hajj time, for Udhiyah (Qurbani), your generosity and Zakat Foundation's extensive network of field and partner offices fed more than 1.35 million meals to children, women, and men in Africa, the Middle East, Asia, Latin America, and the United States.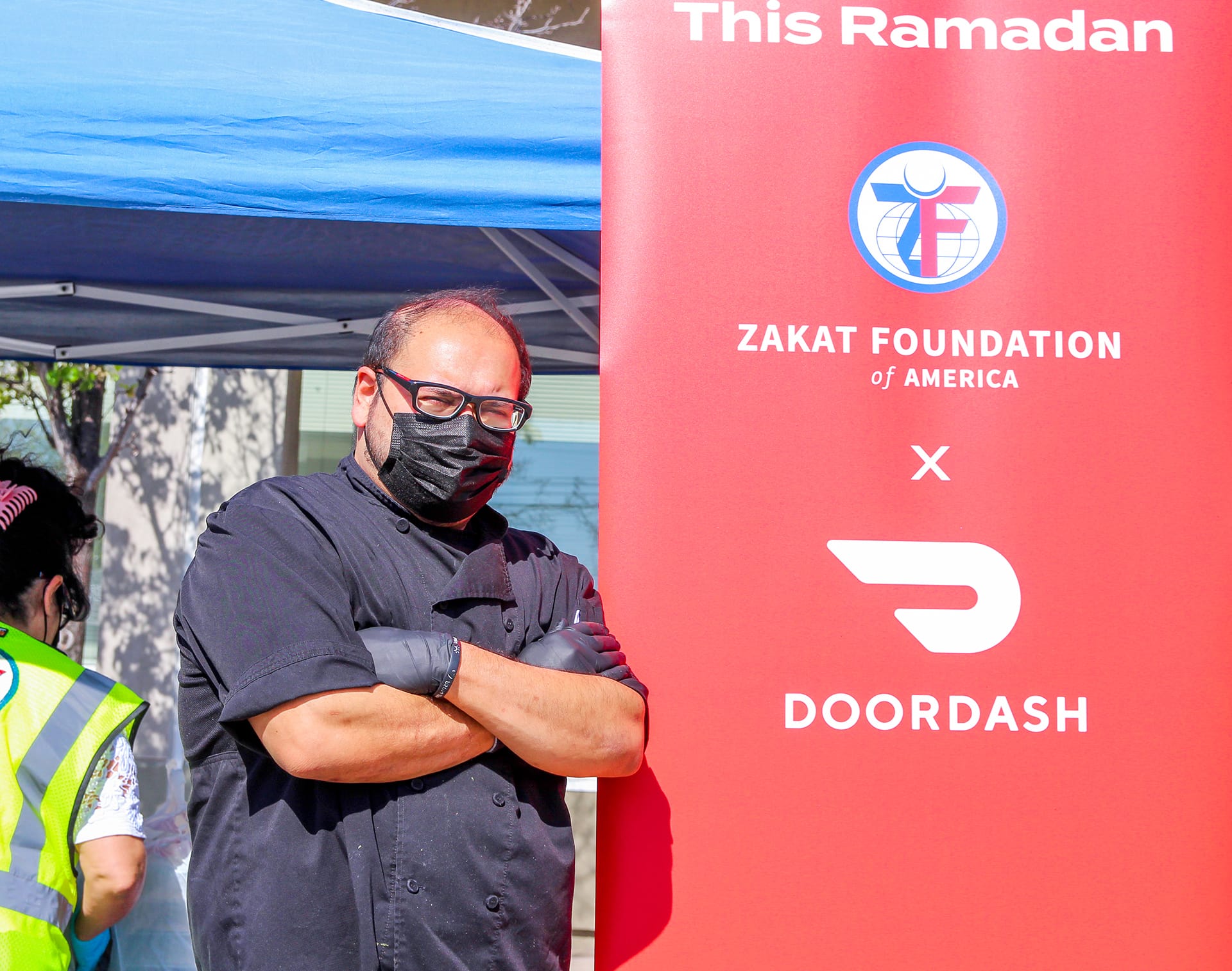 First-of-its-kind Partnership With Doordash
Zakat Foundation of America and food-delivery platform DoorDash partnered in a campaign called Feel the Hunger to Do Good this Ramadan, providing warm meal distributions throughout the month.
The partnership allowed Zakat Foundation and DoorDash to feed 15,000 people, with Zakat Foundation pledging another meal for every post to social media that tagged @ZakatUS and @DoorDash. The partnership with DoorDash helped us reach more than 440,000 people in 11 states and D.C. This was part of a commitment Zakat Foundation made to provide more than 100,000 meals domestically this Ramadan. Distributions occurred in different regions across the country, including Illinois, California, Delaware, Maryland/DC, North Carolina and Pennsylvania.
High-profile officials attended and helped distribute at several events, including but not limited to:
Cook County Commissioners Bridget Degnen (12th District) and Alma Anaya (7th District)
Illinois State Senator Celina Villanueva (11th District)
Illinois Rep. Aaron Ortiz
Illinois Rep. Elizabeth Liza Hernandez (24th District)
Lake County Sheriff John D. Idleburg
Councilmember Aisha Wahab of Hayward, California
Hayward Mayor Barbara Halliday (California)
Wayne County Commission Chair Alisha Bell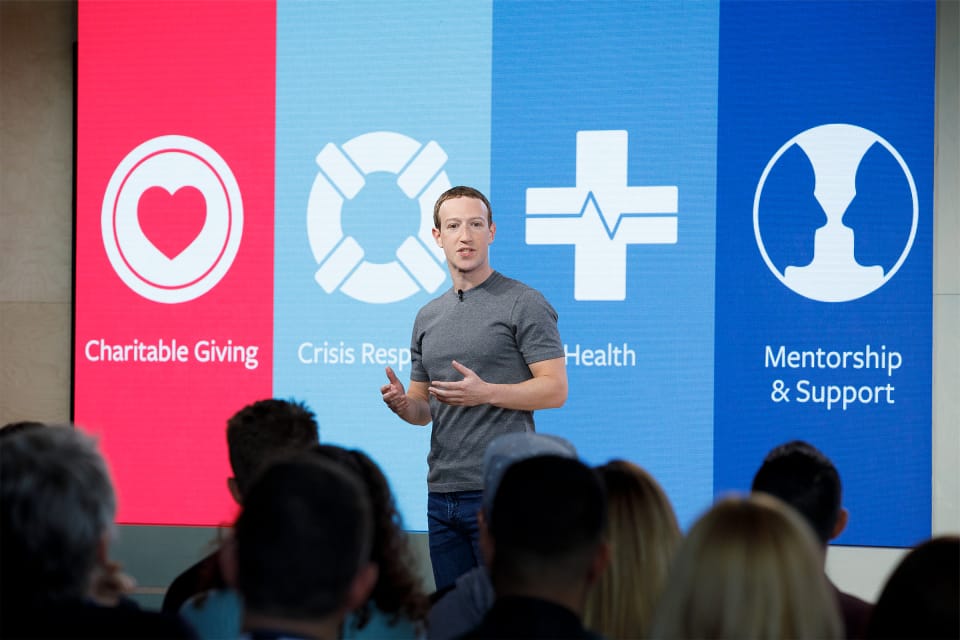 Facebook Selects Zakat Foundation of America for #MonthofGood campaign
Zakat Foundation of America was featured as a top charity in Facebook's brand-new #MonthofGood campaign to celebrate — and give back during — Ramadan.
It's one of five nonprofits Facebook selected to help Muslims fulfill their Zakat obligations, which are typically done in Ramadan (though it is not mandatory to do so in the holy month).
"With over 1 million nonprofits in 19 countries that can receive donations directly through Facebook, we are honored to be highlighted as one of five organizations to give to in Ramadan," said Amna Mirza, chief marketing officer at Zakat Foundation of America.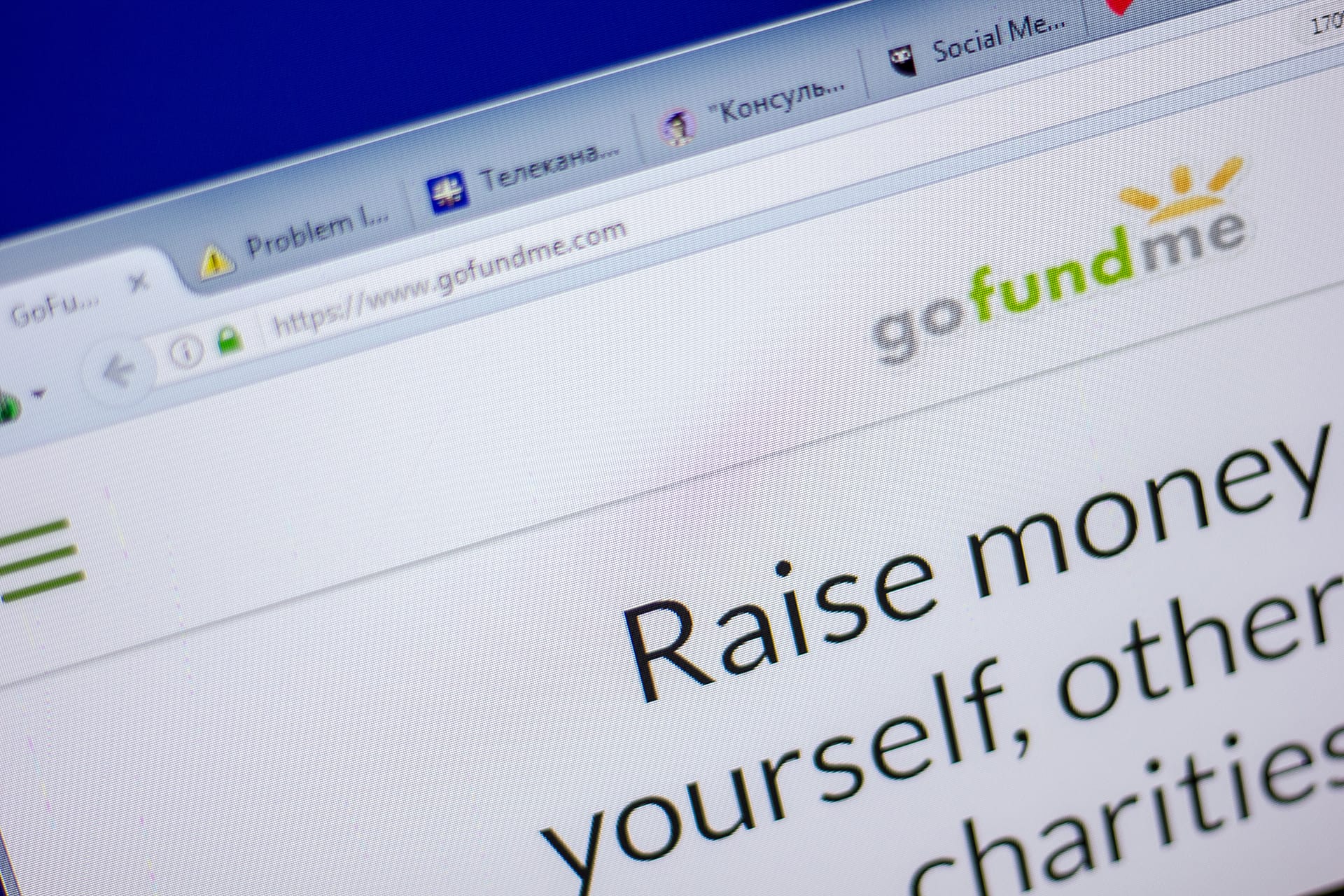 GoFundMe goes the distance in amplifying Zakat Foundation of America's Ramadan impact
Fundraising platform GoFundMe became the third big tech partner to join us in celebrating seasonal giving this Ramadan.
GoFundMe featured Zakat Foundation of America, the United Nations High Commissioner for Refugees (UNHCR), and Penny Appeal USA as its three Muslim humanitarian organizations to support during the last 10 days of Ramadan.
Sadaqah Jariyah
The Ever-Flowing Charity
"When a human being dies, all one's deeds cease, save three: a Sadaqah Jariyah, [religious] knowledge [one leaves behind] from which others benefit, and a righteous child who prays for one." -Prophet Muhammad, on him be peace
325,394
People with Clean Water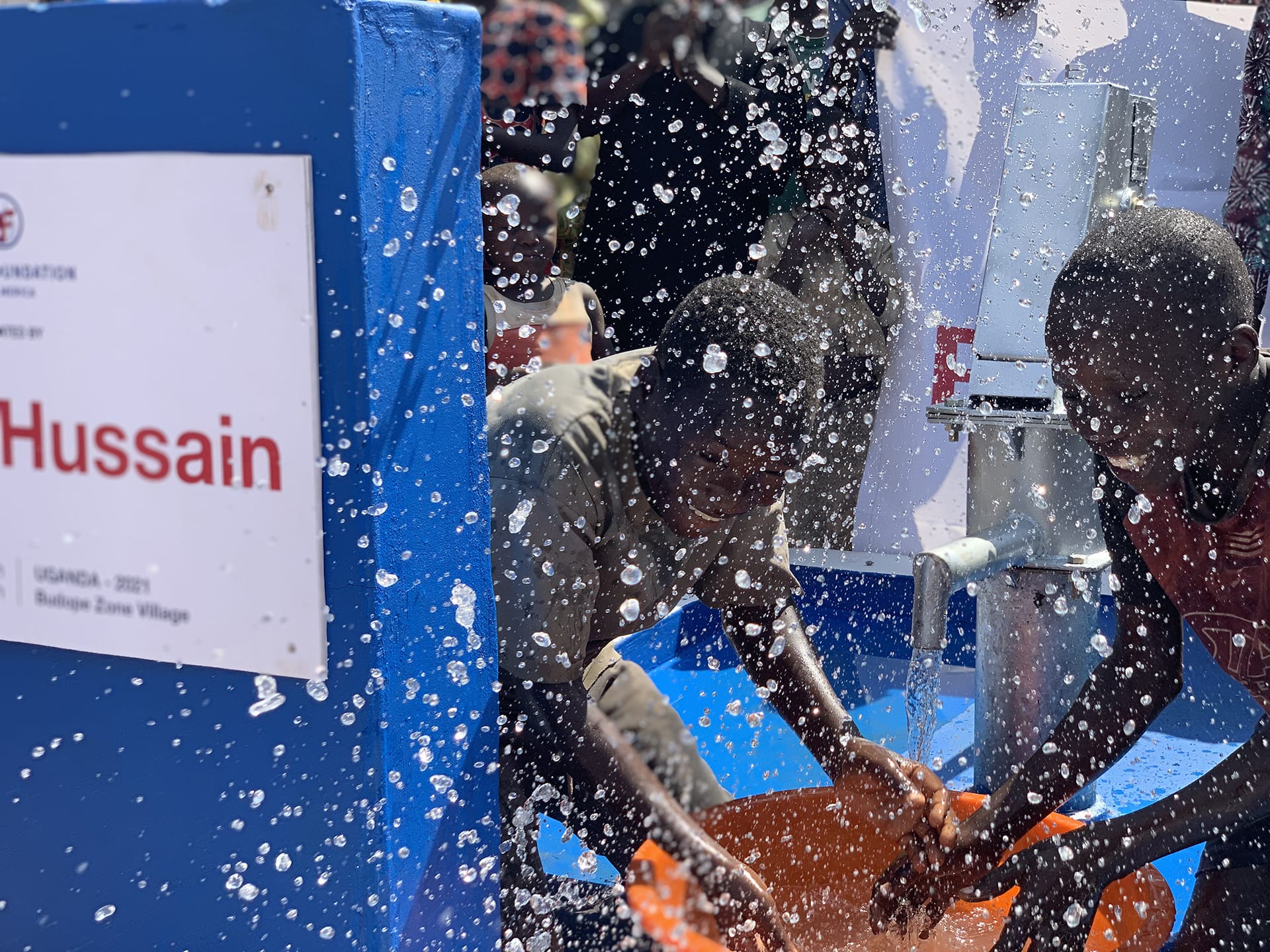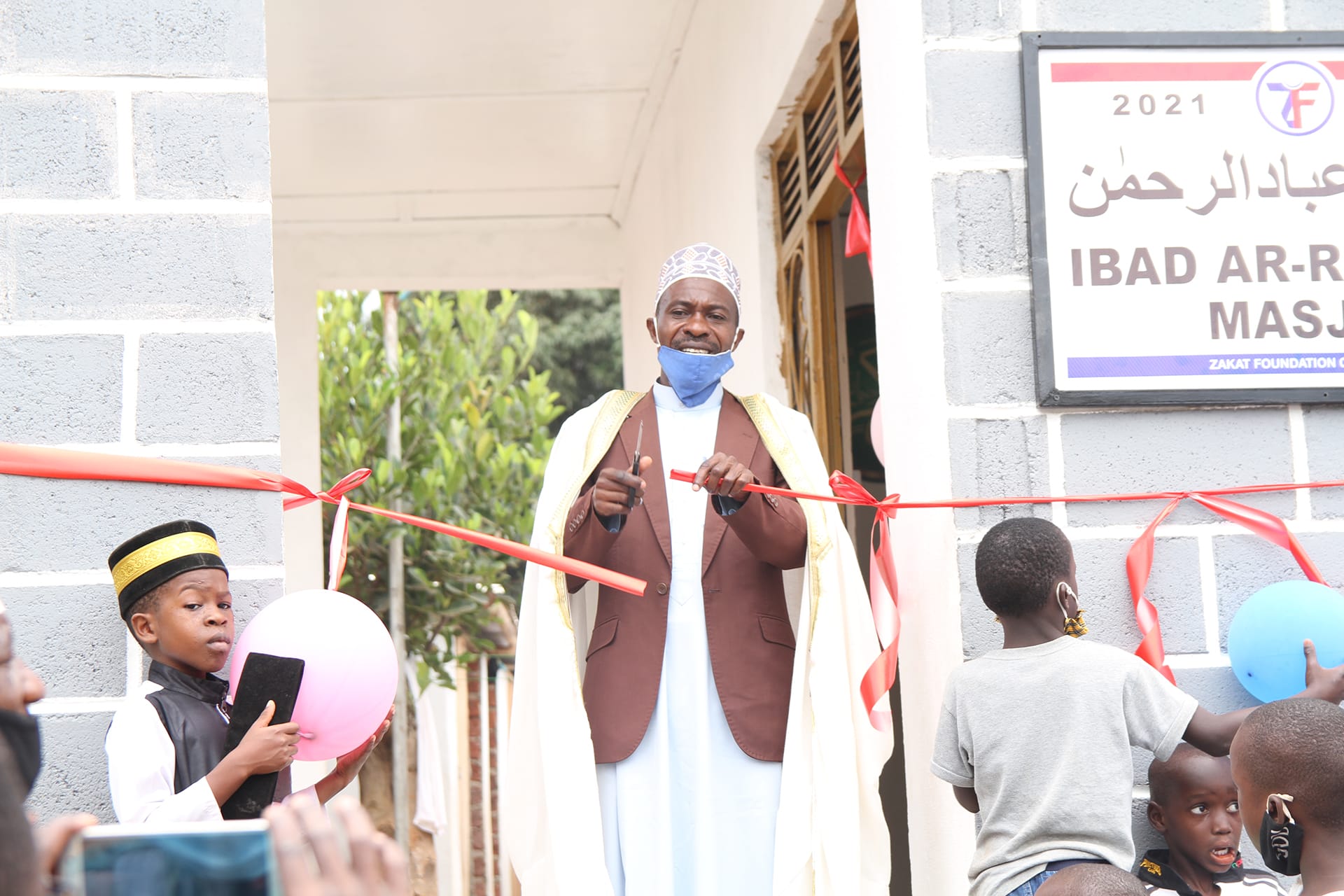 Livelihoods
The sadaqah you gave in initiated (God willing) this kind of blessed economic migration from destitute dependency to self-reliant sufficiency for hundreds of household heads eager to work but bereft of means to work with. You provided dispossessed rural families with mating pairs of dairy and meat livestock to start income-generating herds of their own. You trained others, particularly women with families, in vocations and then gave them the business skills and expert entrepreneurial counseling to free themselves from impoverished dependence. You paved the way with your charitable gifts for refugees and asylees to find the training and job-placement opportunities they needed to thrive in their new homelands.
15,500
Lifted from Poverty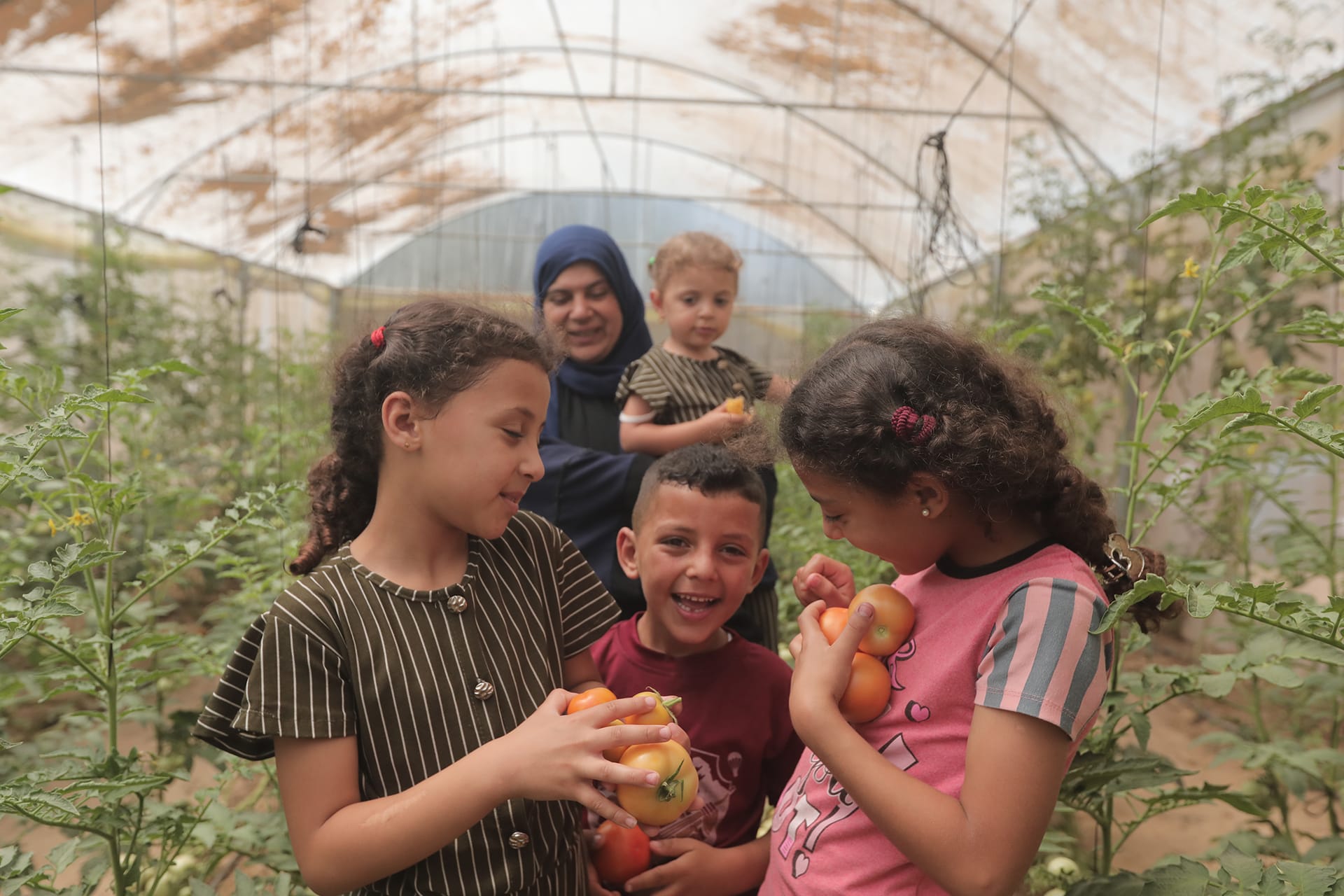 Gaza, Palestine
You expanded the incredible Gaza Home Garden and Food Security Enhancement Project — building rich greenhouses for families to grow food in year-round — from 182 beneficiaries, or about 30 families, to 337 more people cultivating, selling, and eating from the 5,500 pounds of food produced per greenhouse in each of the year's two growing seasons. That's 40 more households added in this period.
The greenhouses produced an average of 3,200 kilograms of tomatoes at an average value of $1,083. Families consumed 12.5% of the produce and sold the surplus.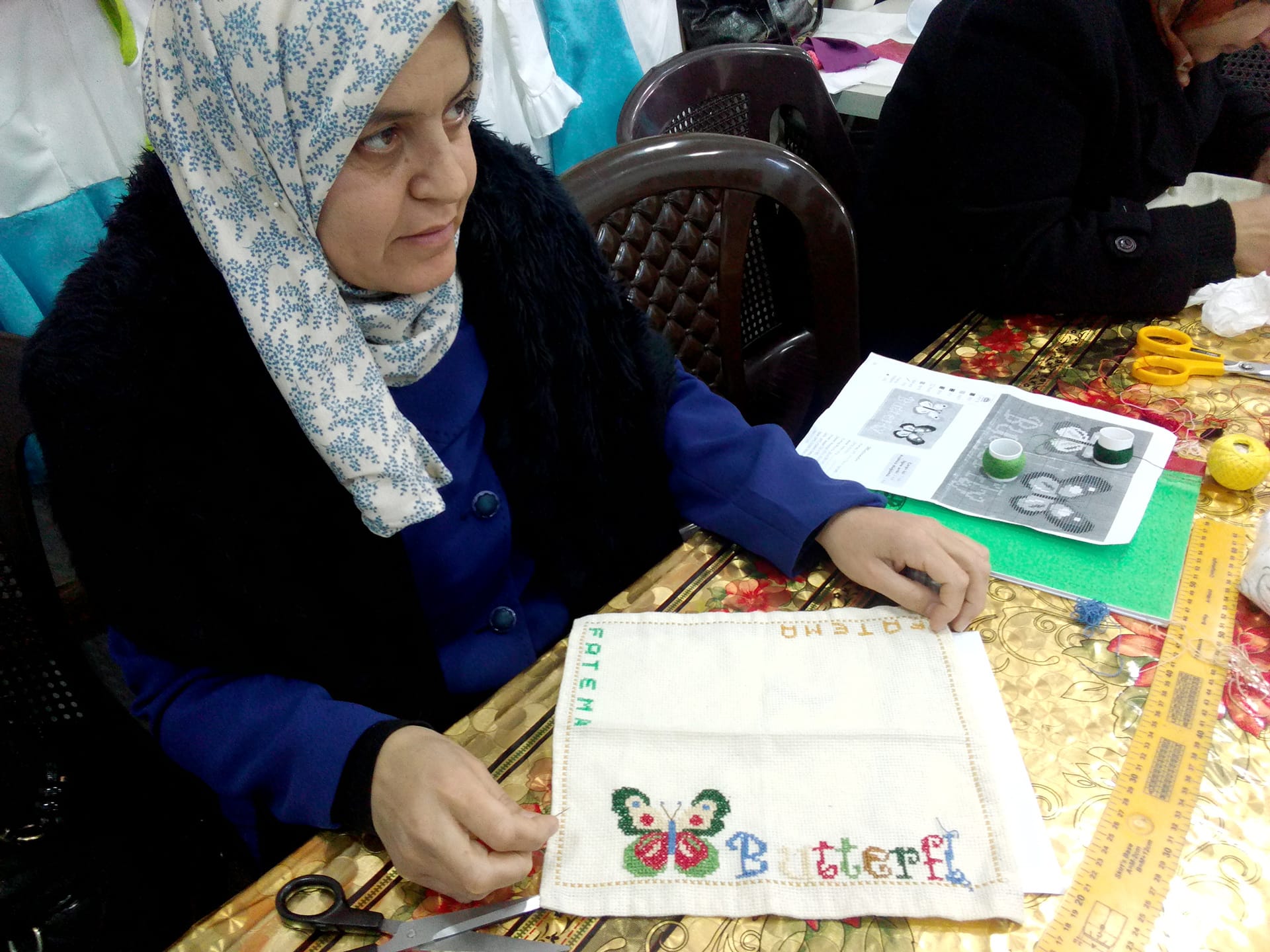 Jordan
Your funding continued for Zakat Foundation of America's expert-run Vocational Education Centers, teaching sewing, knitting, and handcrafts; International Computer Driving License (ICDL), a computer-literacy certification program; web design; Hypertext Preprocessor program (PHP) for work on computer servers; along with touch typing.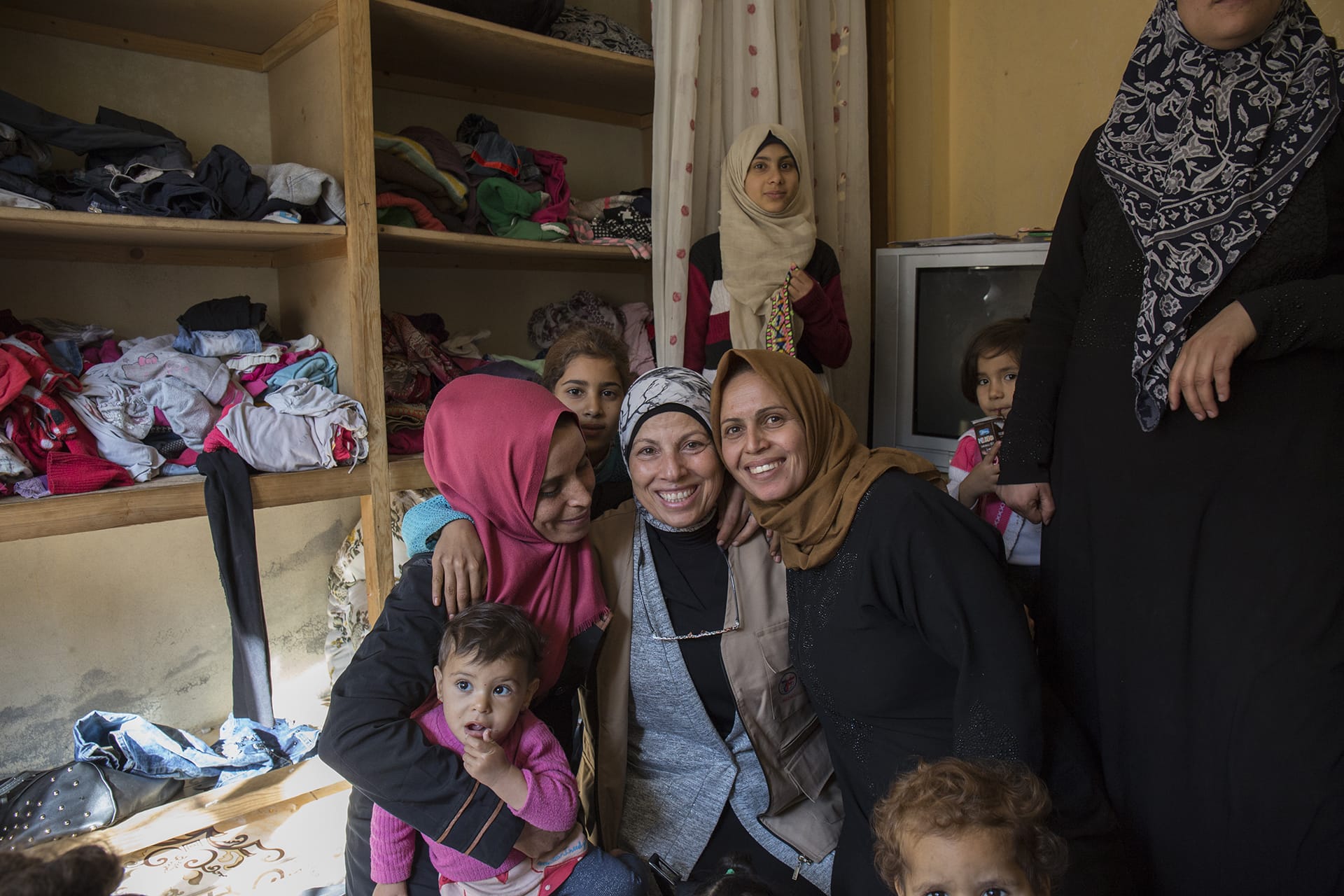 Turkey
You supported the work of FLOKA Women's Department, providing psychological aid, human development, handcraft and vocational training, and job placement for women supporting families.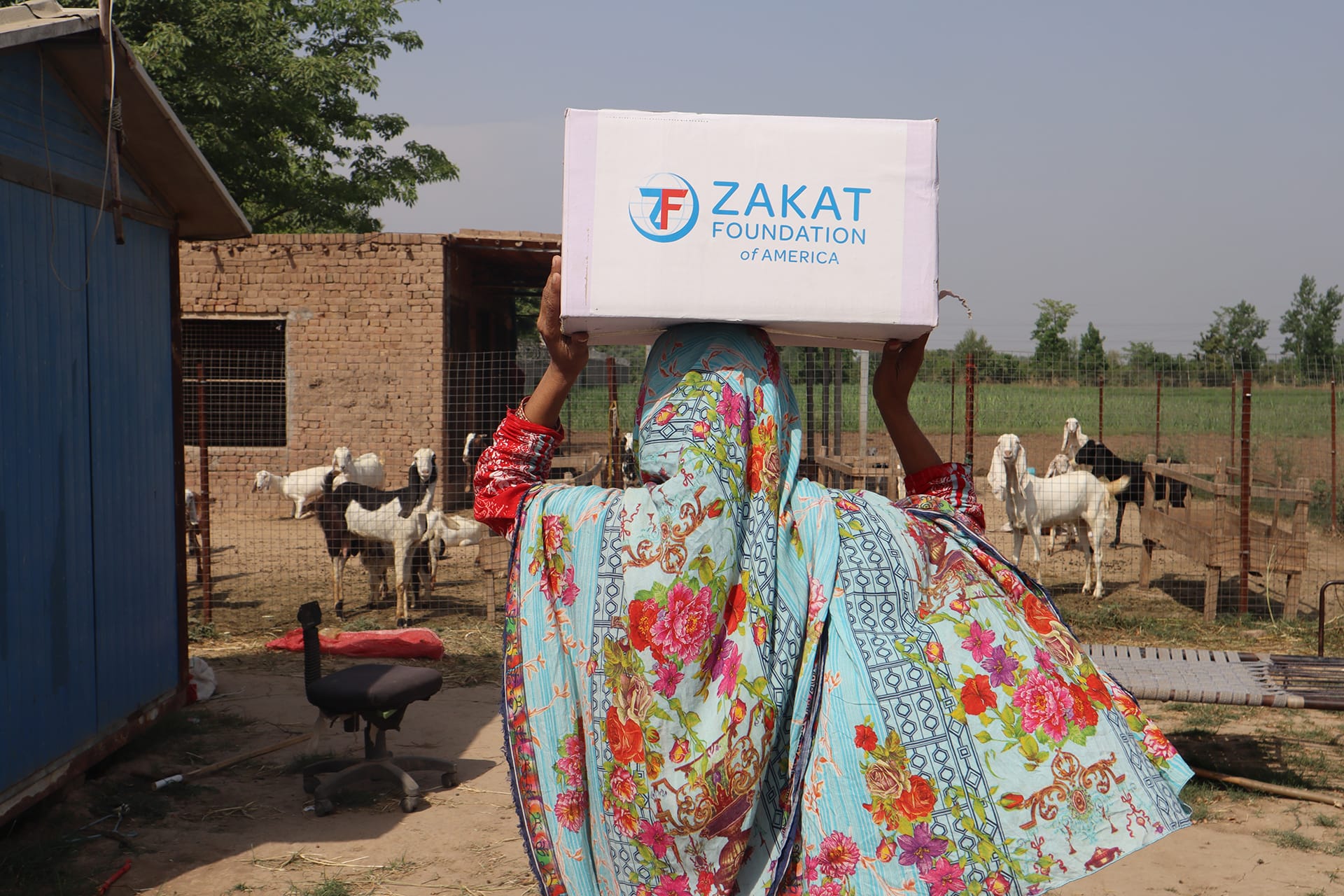 Pakistan
You continued a decade-long expansion of our African and Asian Livestock Program, providing 25 mating goat pairs to the all-female, orphan-run Sarghoda Orphanage farm that benefits widows and orphaned girls.
These goats were purchased to establish a goat farm that supports the orphanage. The farm provides good-quality, hygienic, organic milk to the orphans.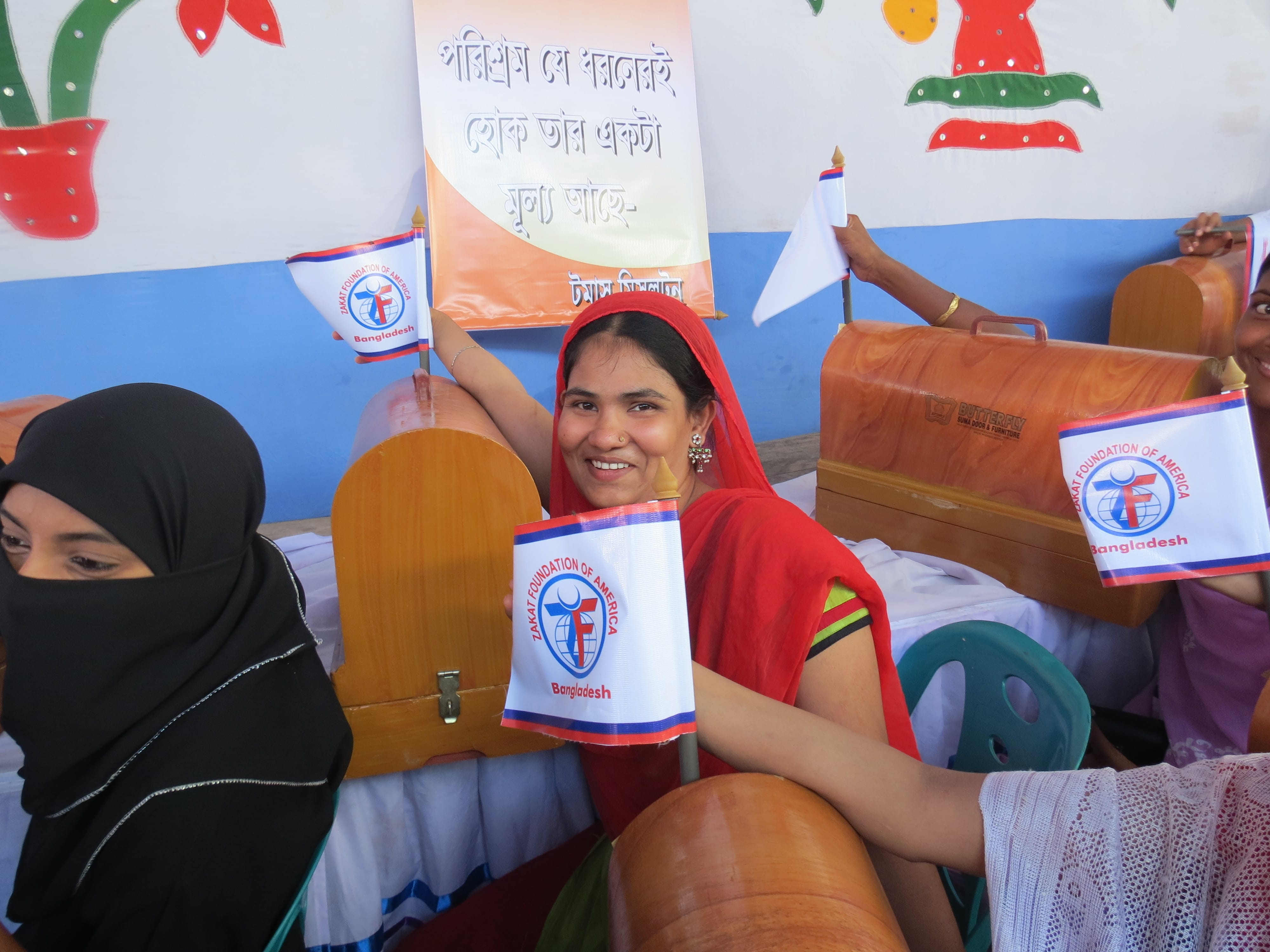 Bangladesh
Your funding of Zakat Foundation of America's landmark Sewing Training Program directly trained and gave sewing machines, equipment, and marketplace presence to 136 new seamstresses supporting their families.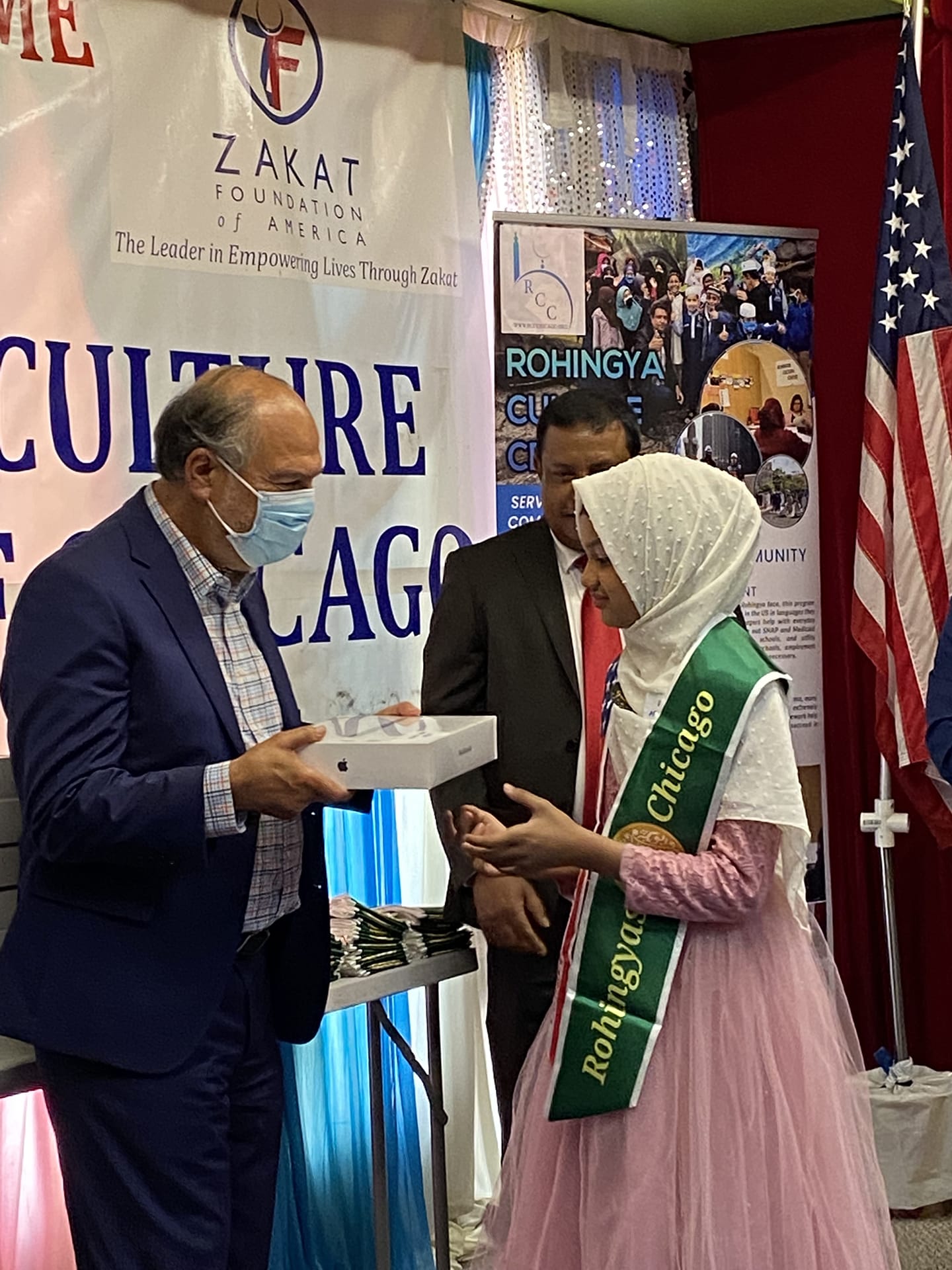 United States of America
You helped meet America's growing mental health crisis by funding direct professional counseling for self-care, anxiety, depression, substance abuse as well as parenting. This included an emergency financial assistance for food, rent, and utilities. Zakat Foundation's Khalil Center is renowned for its professional psychological and spiritual mental health care. You also enabled us to partner with Access California Services.
Orphan Care
It takes just $600 a year to uplift an orphaned child with shelter, food, clothing, schooling, and health care through Zakat Foundation of America's Orphan Sponsorship Program (OSP) – a pioneer among orphan sponsorship programs in developing a system of non-discrimination in its support structure for orphans by equalizing their sponsorship selection across age, gender, race, and appearance differences. Zakat Foundation's OSP, moreover, works to keep orphans in the care of, first, a guardian (often a mother) or a family household when this option exists.
The number of orphans you now provide life-altering care for in Yemen rose to 250, in Pakistan and Palestine to 200 each, and in Mali to 182.
You've also sustained your orphan care in Kenya, Jordan, Ghana, India, Niger, Sri Lanka, Iraq, and Bangladesh — among 14 countries in total — including the 862 mainly Syrian orphans you are now caring for in Turkey.
Upon this solid Orphan Sponsorship Program foundation, we together can build a compassionate, transformative, and secure future for tens of thousands of children deprived of their human support and protective structures worldwide.
718,492
Children Reached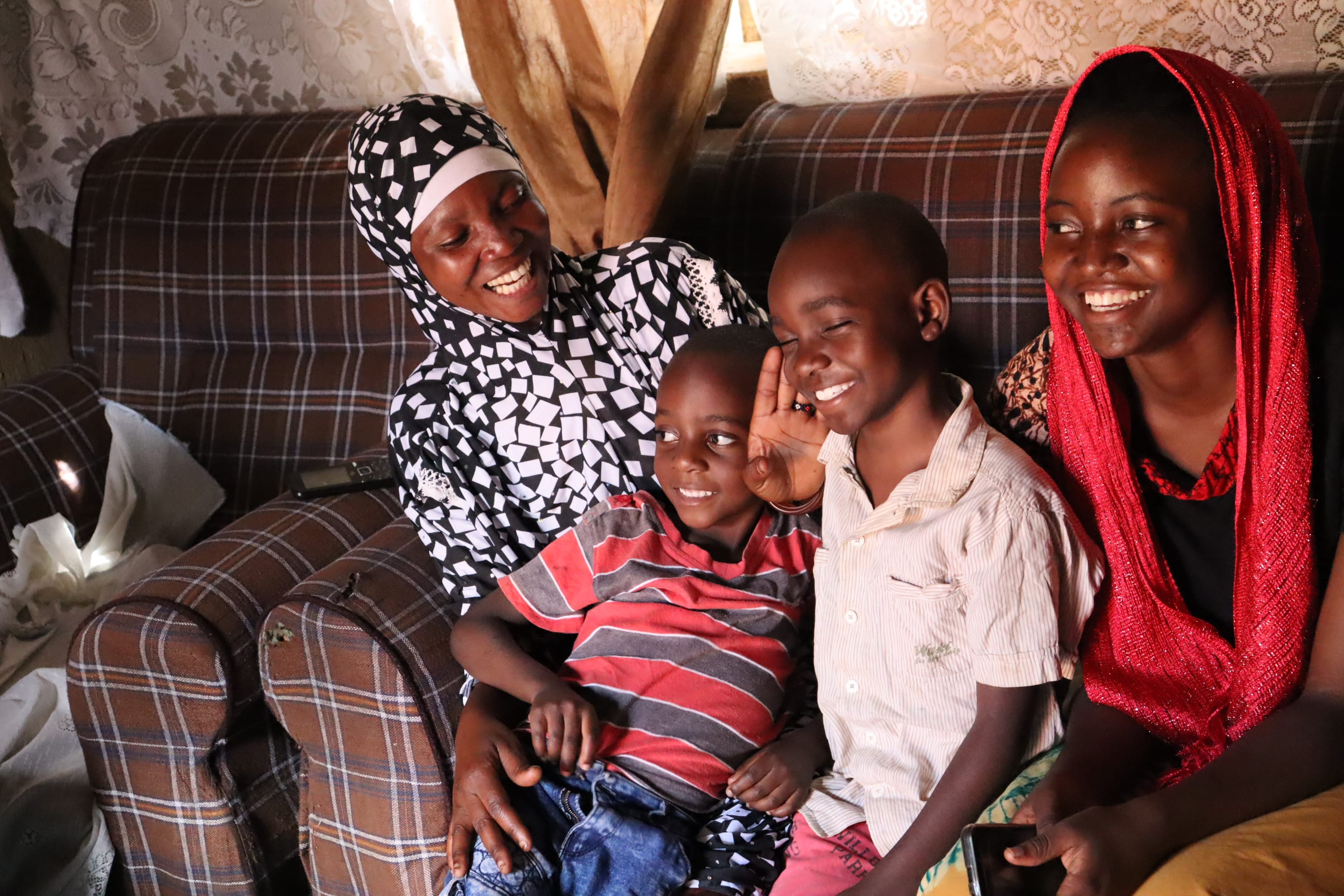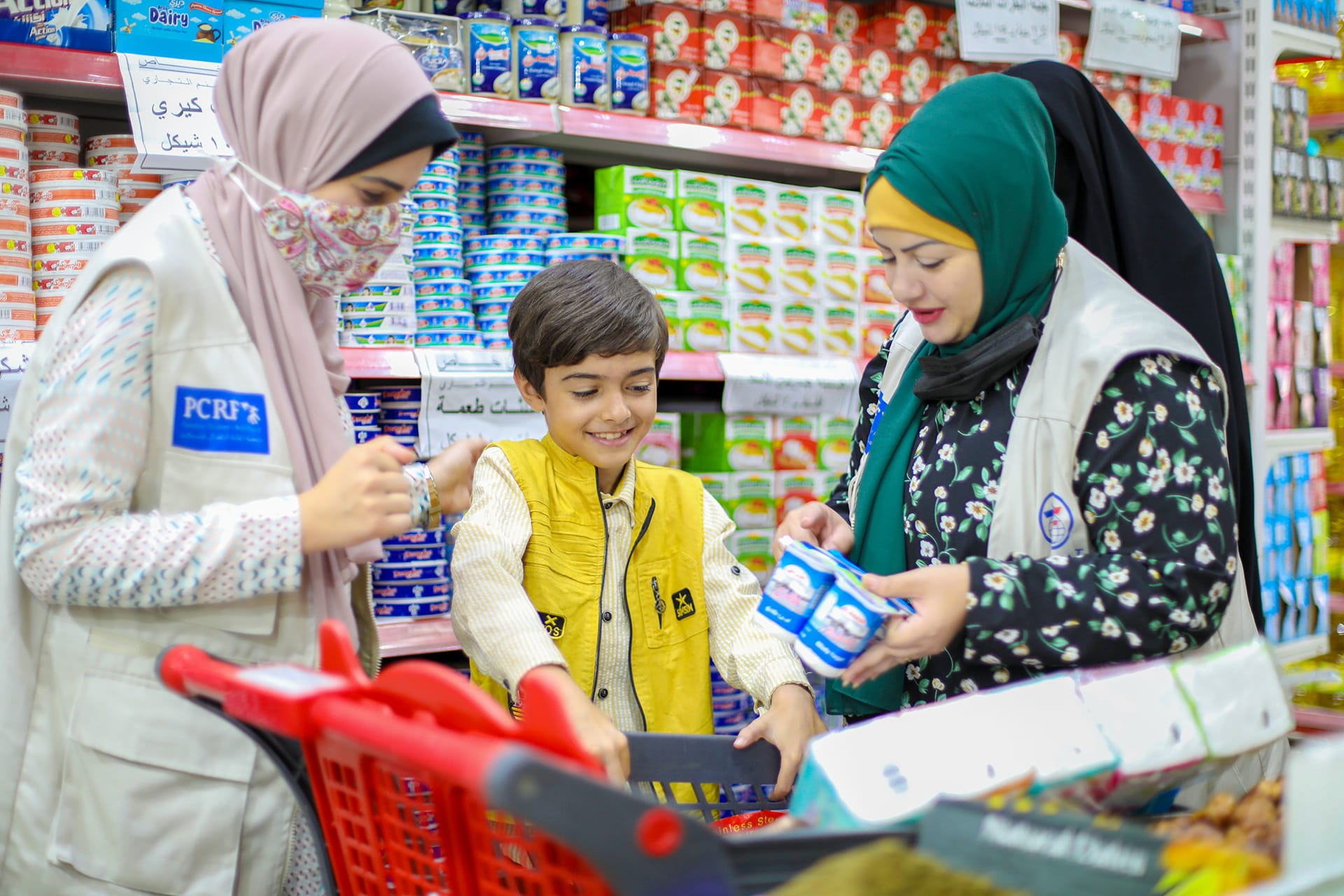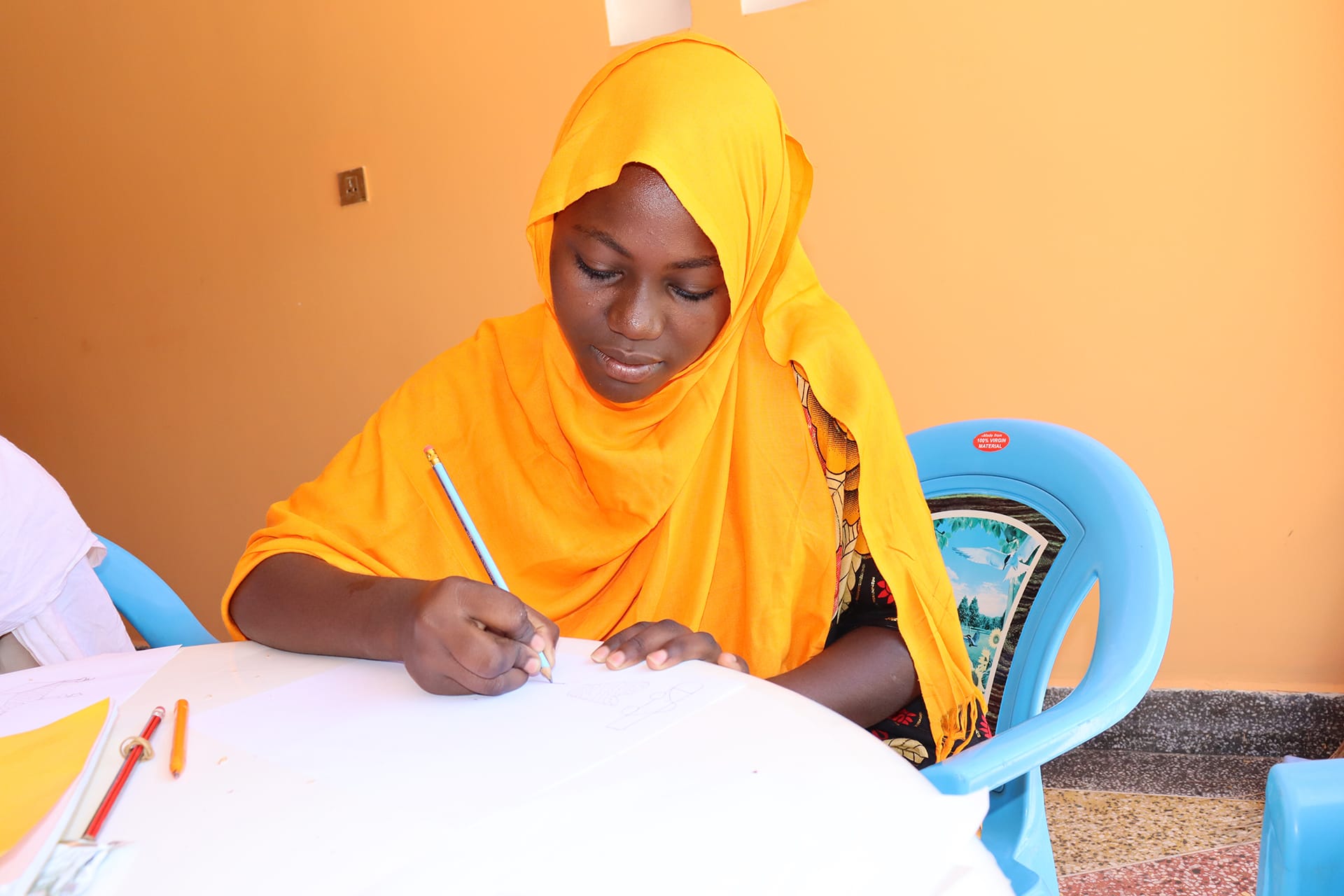 Five Vulnerable Children
Change hearts, change the world!
Your caring help brought five helpless Rohingya children to Chicago. They came traumatized by seeing the killing and loss of their families. They suffered nightmares and emotional insecurity through childhood because of their horrendous shock. They grew up as teens torn between two worlds, ways, and plights with identity crisis.
But this year, your sustained support lifted these five high-achieving children to high school graduation at the tops of their classes, winning university acceptances. Once unsure and insecure, they're now smart, capable, educated and, most importantly, loving human beings, supremely motivated and prepared to face the challenges of life and make a positive difference in the world.
Here lies the true success of our partnership — you and Zakat Foundation of America.
Health & Well-Being
From Ghana and Mali to Bangladesh and India, to the United States, and in dozens of countries, you and your Zakat Foundation of America reached the ailing with aid. Together, we provided physical, mental and spiritual health care to more than 252,700 individuals this reporting period, not including treatments as a result of natural and man-made disasters. The burden of health disparities not only affect individuals, but the society as a whole; our services are aimed at reducing the barriers of time, money and accessibility.
252,700
People Benefited
TAKING CARE OF OUR LOVED ONES, NEAR AND FAR
In Bananzole, Mali, your support meant treating malaria, acute respiratory infections, diarrhea, acute dehydration and malnutrition. It also meant providing vaccinations and antenatal care.
The Mother & Child Health Care system is set up to provide treatment in slum areas of Bangladesh. Patients are given medicines for free as prescribed by our professional doctors. Clinics successfully provided quality treatment to men, women and children. Two MBBS doctors are available twice every week for two hours, providing treatment and medicines. Also, our team held health camps, went door-to-door for health counseling and awareness, and held courtyard meetings.
Ehsas Clinic provides medical consultation and medication to people living under extreme poverty in slum areas.
KHALIL CENTER, A ZAKAT FOUNDATION OF AMERICA PROJECT
Khalil Center worked to actualize its vision of seeing a world where Islamically integrated psychological services are readily available to Muslims everywhere. It focused this year on expanding clinical services, widening its scope, and empowering Muslim communities with preventative tools from around the globe.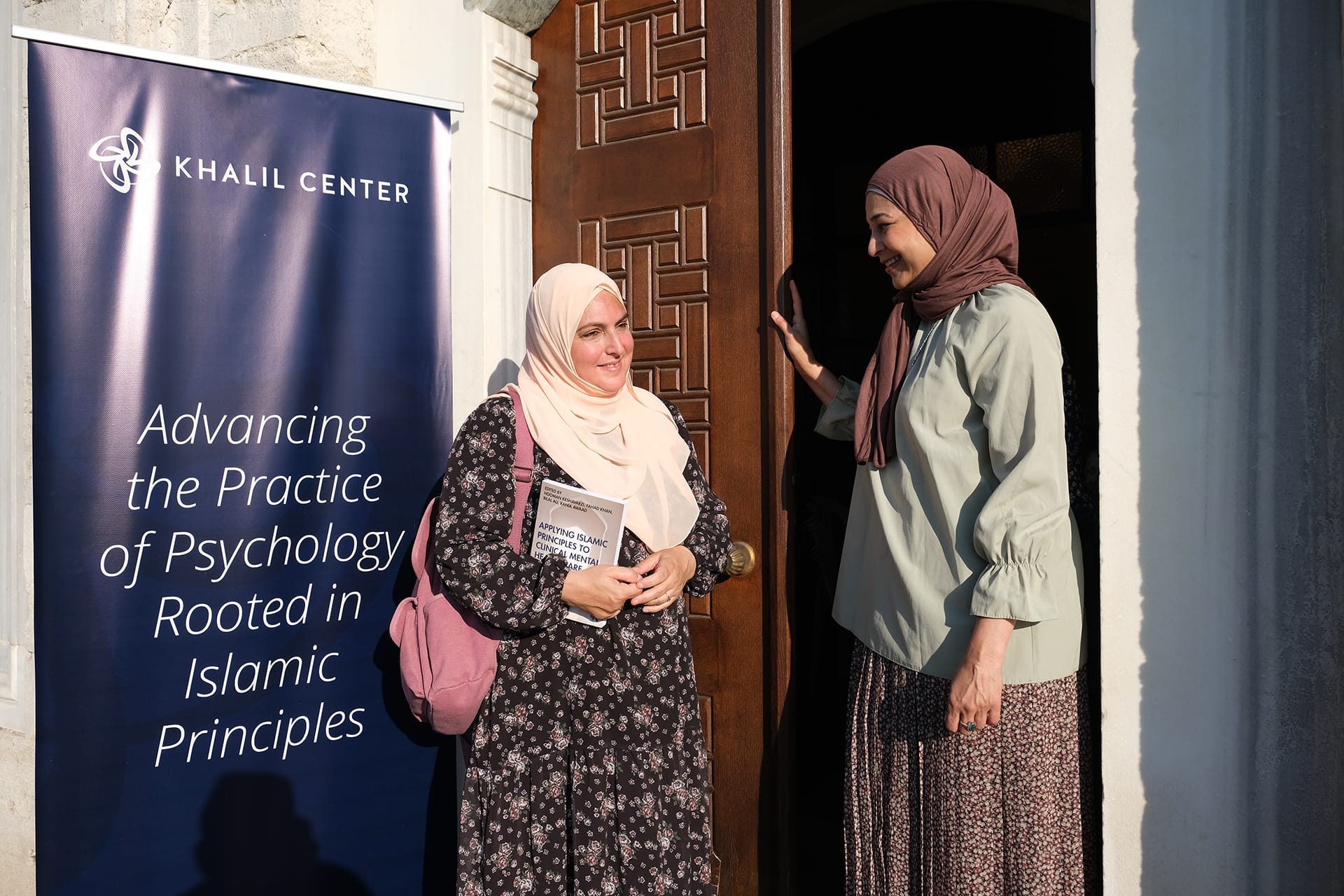 Through the support of our dedicated therapists, psychologists, and social workers, Khalil Center served over 2,300 Muslim clients from across the world, delivering nearly 18,000 sessions in a single year. These services include individual, marital, family counseling, premarital coaching, career counseling, psychiatric medication management, religious consultations, and more! Khalil Center's clinics are nested in major metropolitan cities in North America including Chicago, New York, Los Angeles, the San Francisco Bay Area, and Toronto to help target areas with high Muslim populations.
In addition to clinical services, Khalil Center's greatest goal is prevention. Islamically integrated psycho-spiritual education is a huge step in preventing mental health issues before they even occur. In 2021, Khalil Center delivered 58 psycho-spiritual events educating over 4,400 attendees from eight different countries.
Education
You've given the treasure of knowledge – the gift of light – to more than 20,000 deprived girls, boys, and young men and women, as well as vocational and business training to single mothers and men. God's first command to Muslims is "Read! In the name of your Lord who created" — and you've helped refugees, the displaced, orphans, single mothers, and countless others fulfill this divine injunction with your generous donations.
Now they can imagine a better tomorrow — a future free from poverty. From early childhood education to primary and secondary school, and on through college graduate degrees and professional programs, our education services remain a critical cornerstone of our humanitarian work.
20,000+
Given Education Access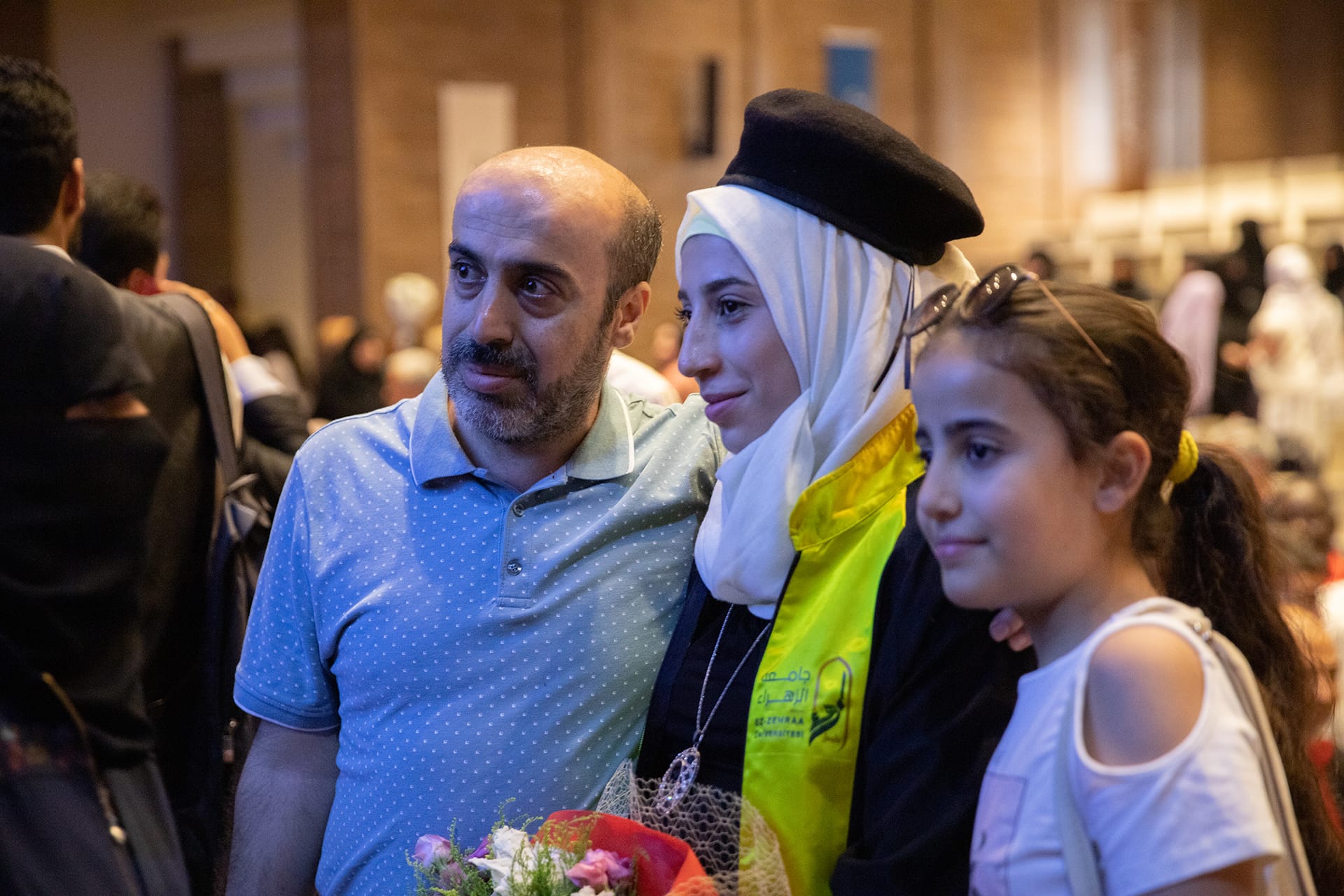 In Gaziantep, Turkey, Zakat Foundation of America has founded and filled a landmark university exclusively for refugees that has become a beacon for all humanitarian organizations. Zahraa University is exclusively populated by Syrian refugees — students, staff, professors, and administrators. It has now graduated nearly a thousand men and women — in engineering, education, economics, and theology — whose lives had come to a disorienting halt from war and displacement. Your gifts have made their learning, books, facilities, accommodations, and food entirely free.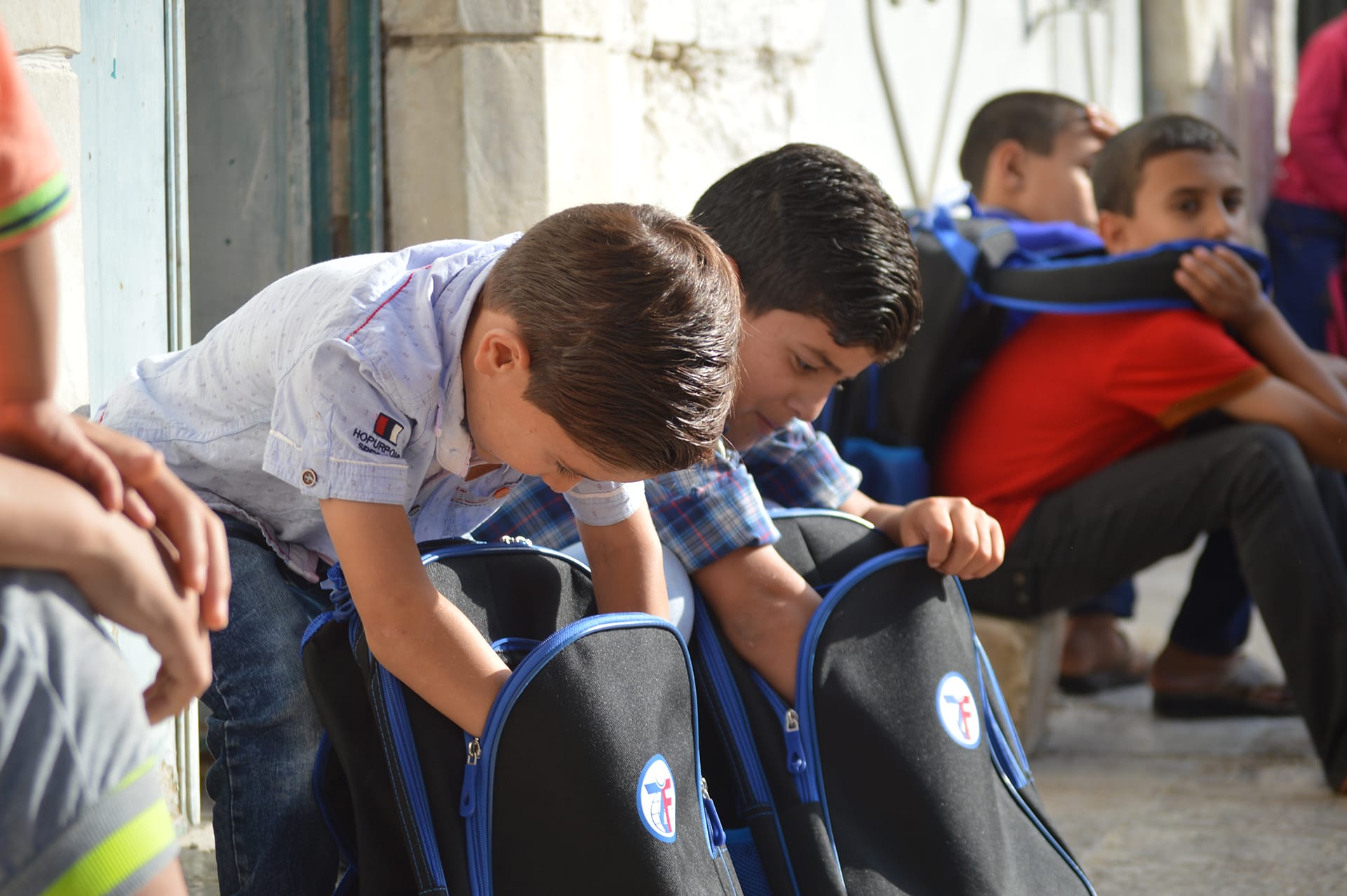 In Jordan, Lebanon, Syria, Afghanistan, Bangladesh, the Dominican Republic, Ghana, Kenya, Cambodia and the Philippines your sadaqah-charity educates and trains thousands — especially young, impoverished girls and boys — providing them schools, classrooms, teachers, books, tuition and education supplies.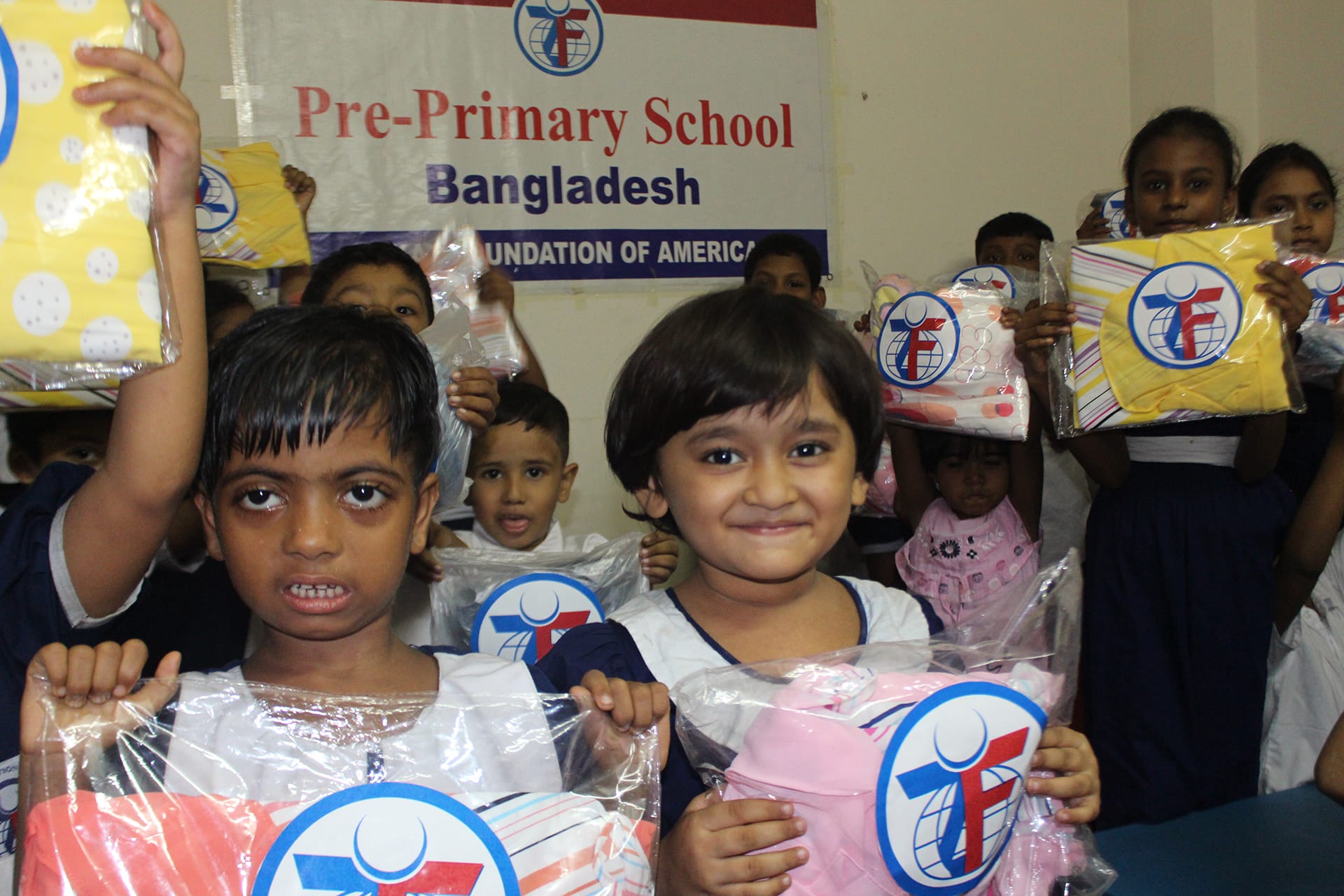 Take Dhaka, Bangladesh, where your donations are now giving 74 orphans — girls and boys — the assistance they need to attend 10 different schools with comprehensive scholarships covering all aspects of their education, including individualized support mentorships.
Zakat Foundation of America also deploys your charity to send teachers into homes in Dhaka, where 30 girls and 21 boys — all pre-primary aged children — gather in groups of five to 10 to begin their early childhood learning, giving them an immensely valuable head start on their education. Your gifts also fund private mentor support for these children.
Refugee
Your generous help aided the relocation, housing, language services, health care, education, certification, job placement, and socialization of thousands who have sought refuge from genocide, oppression, conflict, and displacement.
It created pathways to sustainable livelihoods for women at our Vocational Training Center in Jordan. There, they learn sewing, knitting, handcrafting, typing, web design and more to sell their products and get jobs that help them become financially independent. Similarly, in Kenya, we work with RefuSHE — a long-time nonprofit partner — to empower unaccompanied adolescent girls and young women with primary education, life skills, and vocational training.
Our refugee services looked quite different in Lebanon, where your aid allowed us to provide emergency winter relief that included heating fuel, blankets, warm meals and more. Your generosity sheltered and fed vulnerable families that the August 2020 Beirut blast affected. You ensured food security for vulnerable Syrian refugee families in Beqaa and Aarsal's informal refugee settlements.
In Palestine, you supported students and improved their schools while providing essential food assistance during COVID-19. With UNRWA, we delivered food directly to homes for Palestinian refugees living in Gaza, all while ensuring enhanced hygiene and physical distance measures.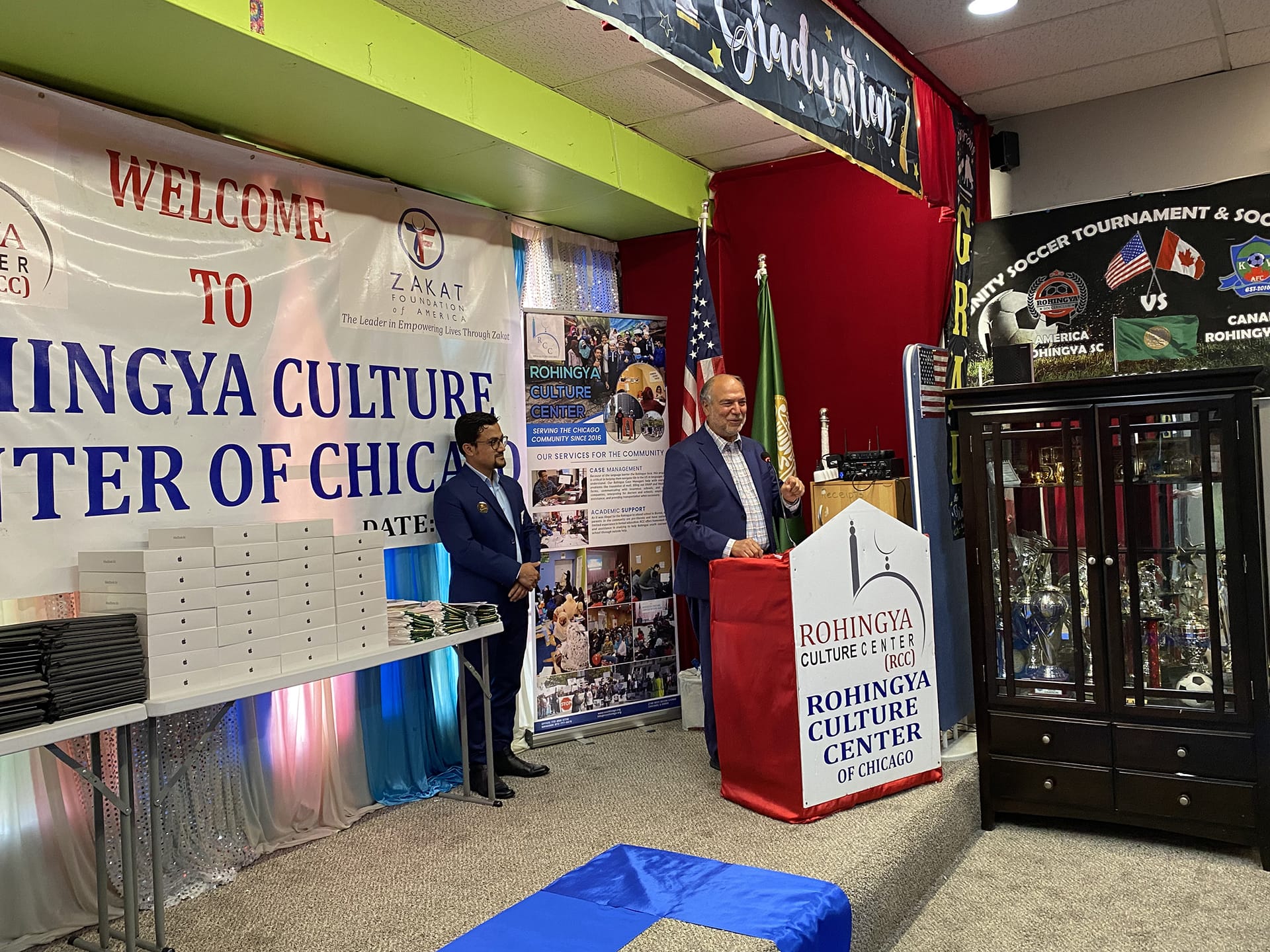 Rohingya Culture Center — Chicago
The Rohingya have been called by many humanitarian experts the most persecuted people in the world. Your charitable gifts have completely changed the lives of the few thousand able to gain immigration rights to the U.S. through the building, funding, and programming of the now vibrant Rohingya Culture Center, serving 5,682 men, women, and children who have rebuilt a new Rohingya community in Chicago.
You've sponsored a robust education curriculum of Quran study, English literacy, in-home English assistance, and homework help for school children. You fund an innovative and highly successful primary-school student Citizenship-ESL (English as a Second Language) program. Your sadaqah provides general casework assistance — legal, social, and employment placement — for nearly a thousand families, in addition to sporting activities (including a really good youth soccer team!) for young Rohingya-Americans.
Advocacy
We are in a unique and critical time in our nation's history. Millions in the United States are in need, and Zakat Foundation of America is here to help them. We have helped with food and water, education, refugee resettlement and so much more with our U.S.-based programs.
And while Zakat Foundation of America is in your communities and the streets working hard to reach those in need, we are not alone. Political leaders, elected officials, civil servants, religious leaders, and our beloved volunteers are working with us to better serve those in need.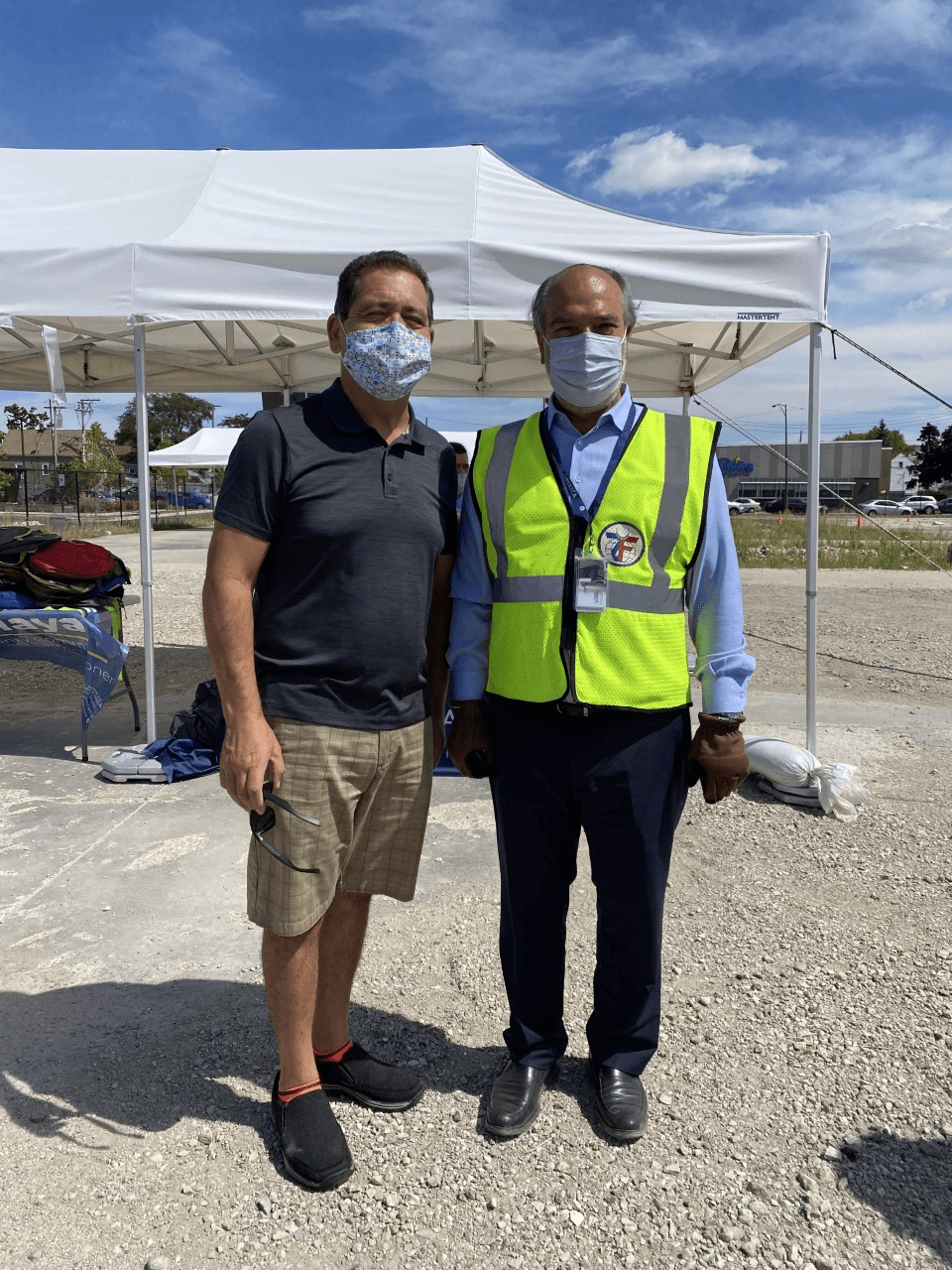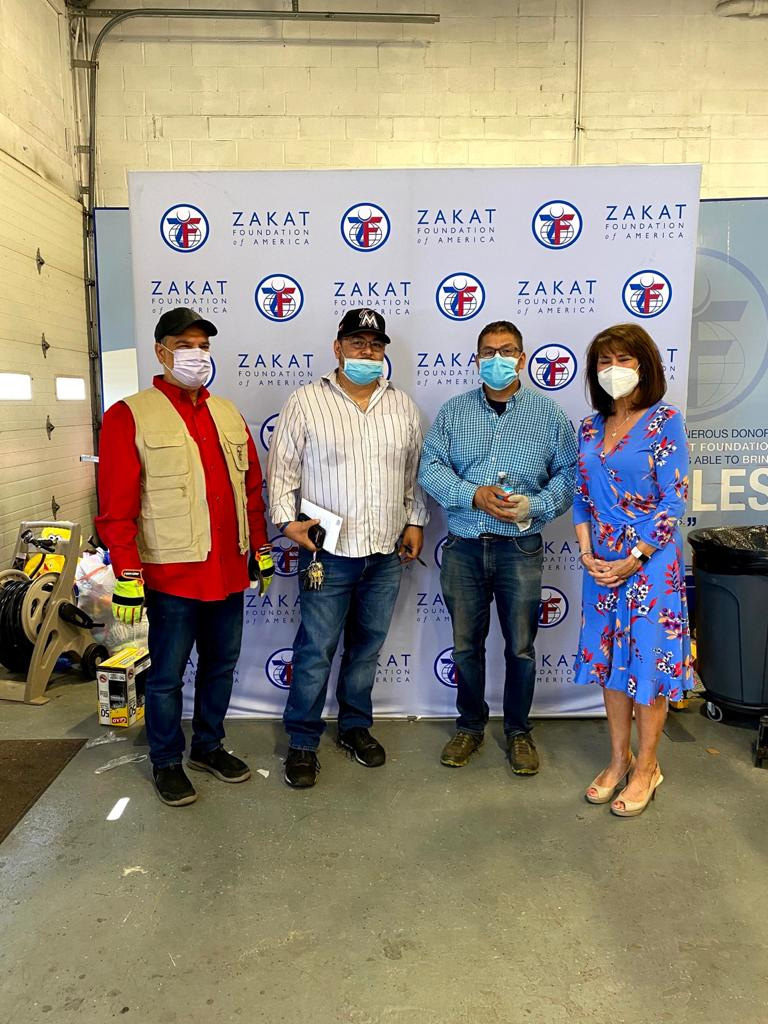 We are very grateful to those in Chicago — our home — and beyond who have stood by us and with us, who have supported us in serving those who have been marginalized and aiding us in helping those in underprivileged communities.
Zakat Foundation of America is also thankful to our partners who assisted us in reaching impoverished communities here in America and beyond.
Partners at home
In a six-month span during the pandemic, from February 2021 to August 2021, Zakat Foundation of America distributed more than 1 million pounds in greater Chicago. Half of the food was given away in food deserts in the south and west sides among the BIPOC (Black, Indigenous, and People of Color) communities. It amounted to about 15,954 pounds per week, serving 387,156 kids and their families.
We intentionally contributed to achieve the cities' goal in 5 of the 10 neighborhoods in the Planning and Development's INVEST S/W program, supporting Chicago Lawn, Bronzeville, North Lawndale, Homan Square, Auburn Gresham, Belmont Cragin and Belmont Central.
A few partners helping to facilitate this work:
Congress for Illinois
Bobby L. Rush; Congressman, 1st District
Marie Newman; U.S. Rep. from 3rd District
Jesus "Chuy" Garcia; Congressman, 4th District
Mike Quigley; Congressman, 5th District
Brad Schneider; Congressman, 10 District
llinois State Representatives and State Senators
Aaron Ortiz; State Representative, 1st District
Theresa Mah; State Representative, 2nd District
Delia Ramirez; State Representative, 4th District
Patricia Van Pelt; State Senator, 5th District
Lakesia Collins; State Representative, 9th District
Celina Villanueva; State Senator, 11th District
Robert Peters; State Senator, 13th District
Edgar Gonzalez Jr; State Representative, 21st District
Liza Hernandez; State Rep. Distr 24th, Chair Illinois Legislative Latino Caucus and Co-chair Conference of Women Legislators (COWL)
Kambium Buckner; State Representative, 26th district
Rita Mayfield; State Representative, 60th district
Cook County Board
Dennis Deer; Cook County Commissioner 2nd District
Bill Lowry; Cook County Commissioner 3rd District
Alma Anaya; 7th District, Cook County
John P. Daley; Cook County Commissioner 11th District
Bridget Degnen; Cook County Commissioner 12th District
Sandra Lewis; Director of External Affairs, Cook County President Office (President Preckwinkle)
Metropolitan Water Reclamation District of Greater Chicago (MWRD)
Eira Correal Sepulveda
Kimberly Neely Du Buclet
Chicago Aldermen
Pat Dowell; 3rd Ward
Patrick D. Thompson; 11th Ward
Jorge Cardenas; 12nd Ward
David Moore; 17th Ward
Mike Rodriguez; 22nd Ward
Michael Scott Jr.; 24th Ward
Byron Sigcho Lopez; 25th Ward
Gilbert Villegas; 36th Ward
Samanta Nugent; 39th Ward
Andre Vasquez; 40th Ward
Other Public Partners
Jefferson Park Police Department
9th, 10th and 25th districts' police stations
Lake County
Sam Cunningham; Mayor of Waukegan
Angelo Kyle; Lake County Commissioner — 14th District
Lake County Sheriff Office
Partners abroad
The African Union, a continental coalition founded in 1963 of 55 member states, represents all African countries. Consulates celebrated the "Unity Day;" Zakat Foundation of America was invited as a special guest and honored to attend.
Phumzile Mazibuko, the Consul General for the South African Consulate General, said in her introduction to the African Union, "We see Zakat Foundation of America as an outstanding partner; we can proudly say that its programs and projects reach a majority of our member countries. Our gratitude and thanks goes out to Zakat Foundation of America. We welcome you as our beloved guest."
Beyond attending and being recognized at The African Union meeting, Zakat Foundation of America also met with:
Reyna Torres, General Consul of Mexico
Sandra Mendoza, Consul for Community Affairs for the General Consulate of Mexico
Gonzalo Chavez, Consulate of Honduras
Billy A. Muñoz Miranda, Consul of Consulate Guatemala
Ivonne Sanchez, Vice-Consul, Consulate General of Guatemala
Dixon Moya, Consul of Colombia
We had these meetings with these fantastic people representing South America to grow our network and to be able to deliver aid to those in need worldwide, regardless of their faith.
Expanding Our Reach
When it comes to states, Illinois is home to the largest Muslim community, according to a report the Illinois Coalition published. With this in mind, Zakat Foundation of America resolved to move its headquarters closer to the heart of Chicago, the state's largest city by both population and land mass.
With our leadership in agreement, we moved to purchase the beautiful and historic Centennial Methodist Church. We have begun rejuvenating this wonderful building before we open it to the community.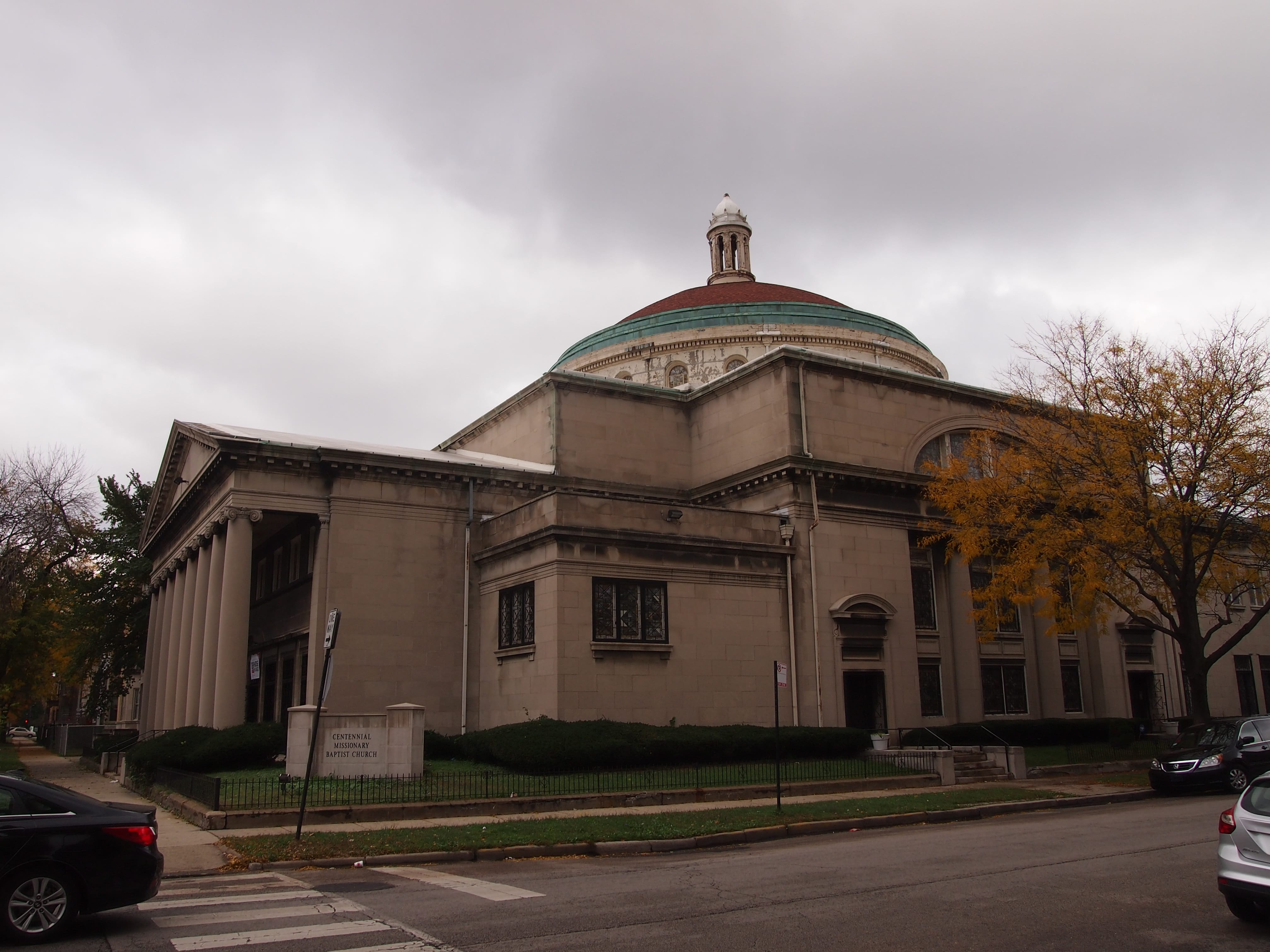 The Centennial Methodist Church is at the heart of historic Chicago's Bronzeville.
In the early 20th century, Bronzeville was known as the "Black Metropolis" and was one of the nation's most significant concentrations of African American businesses and culture. This gives Bronzeville a special place in Chicago's history. The Centennial Church was one of the first churches built here by the African American community and has played a very crucial role in the African American history of Chicago.
Upon completion, the Centennial Center will not only be the headquarters for Zakat Foundation of America, but it will also be a center for cultural, religious, and social activities for the surrounding communities and a landmark to Chicago's extensive history to all those who visit.
The Centennial Center, inshaAllah, will bring Muslim humanitarian organizations — such as Zakat Foundation of America — closer to the heart of the generous people of Chicago and will enable us to become an even greater part of Chicago's rich and expansive history.
Celebrating 20 Years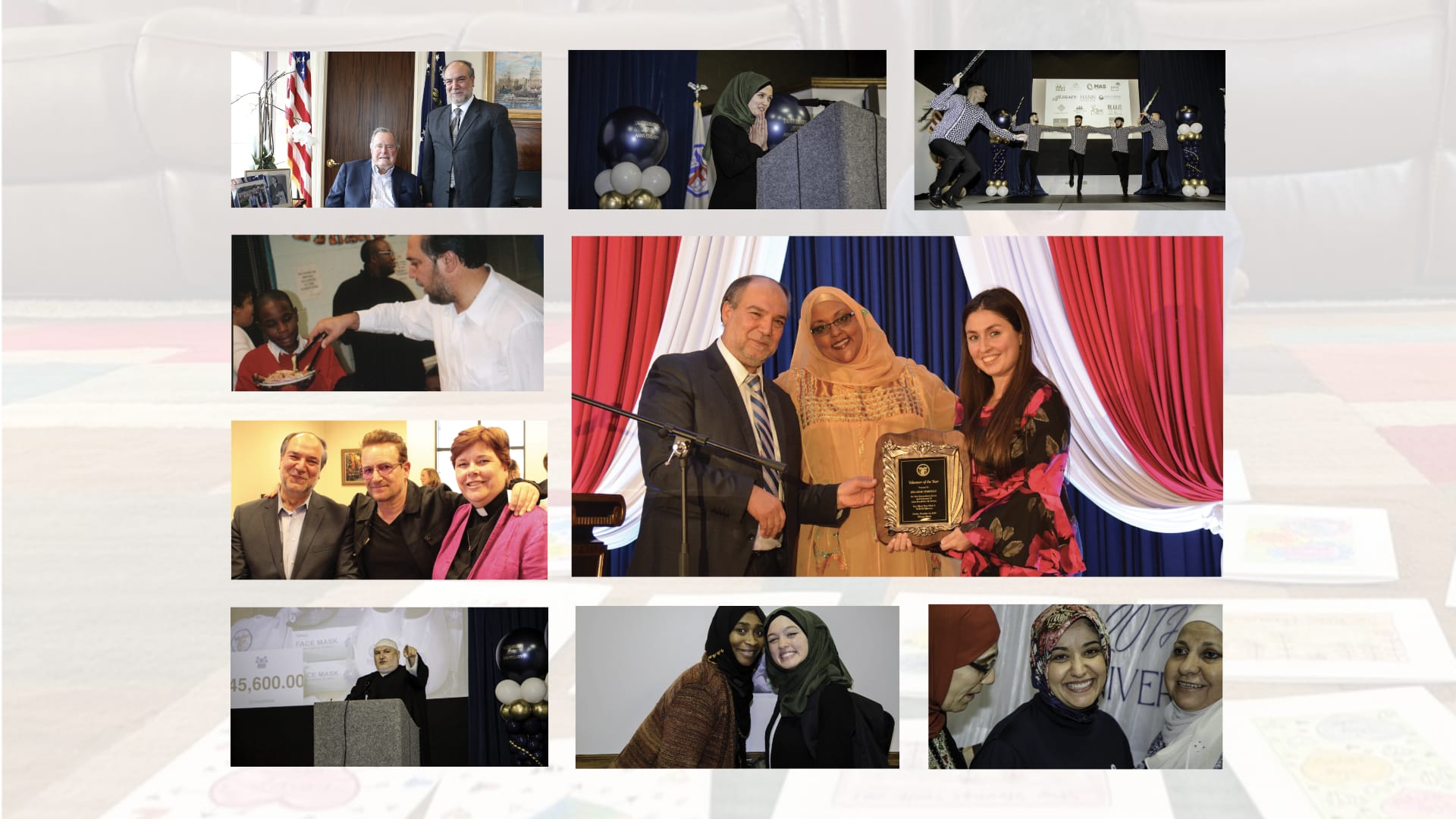 The Zakat Foundation of America Statement of Activities
For the year ended June 30, 2021
Support And Revenue:
Contributions
$ 16,705,750
In-Kind Contributions
$ 3,696,116
Investment Return
$ 16,596
Miscellaneous Income
$ 25,065
Total support and Revenue
$ 20,938,262
Expenses:
Program services
$ 15,668,206
Management and General
$ 524,469
Fundraising
$ 506,825
Total Expenses
$ 16,699,500
Change in net assets
$ 4,238,762
Net Assets
Net Assets at Beginning of Year
$ 9,493,085
Net assets at End of Year
$ 13,731,847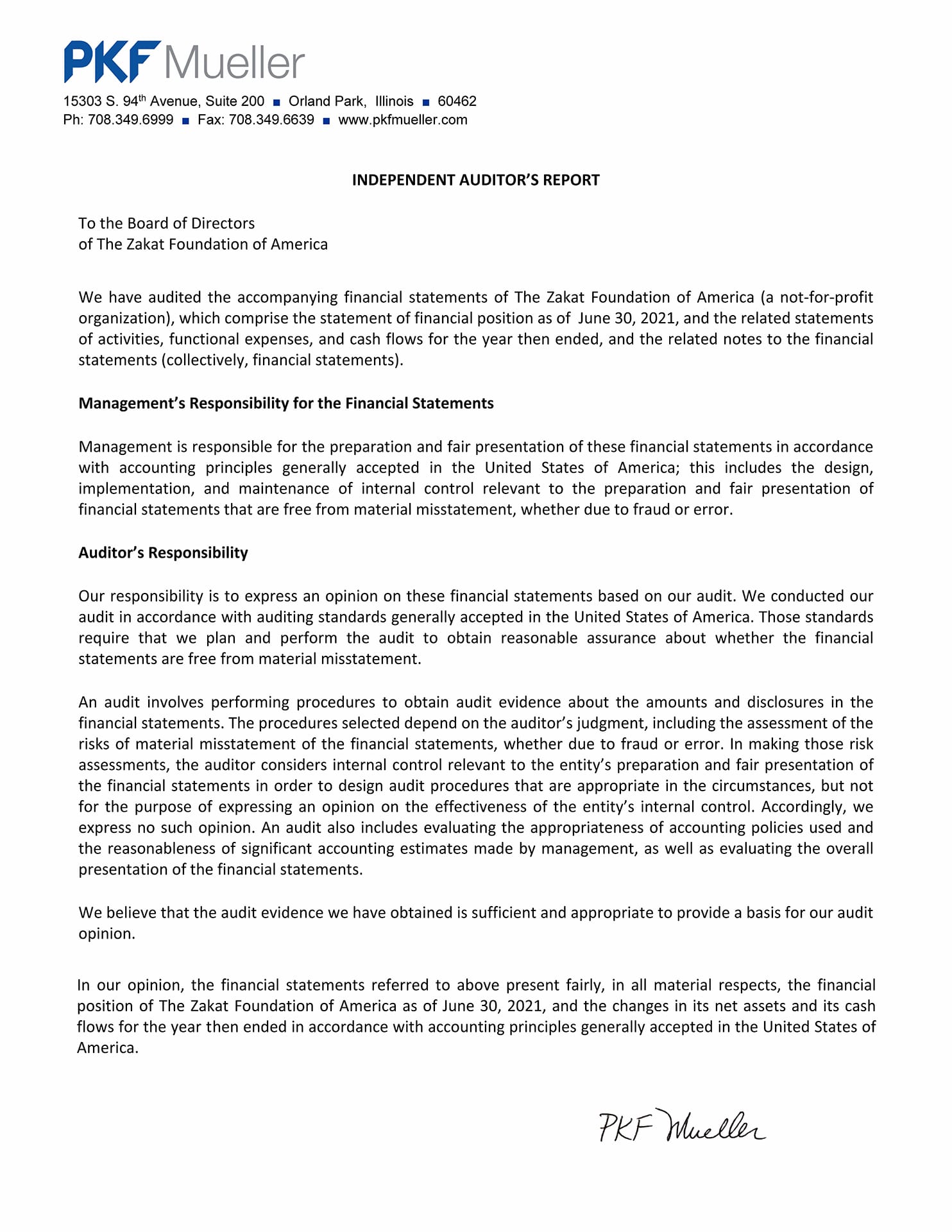 Executive Director
Halil Demir
Chair of Board
Hasan Arslan
Vice President
Mehmet Tarhan
Board Member
Fatima Khalil