2,604,970
People Reached
Breakdown of people reached
---
COVID Related
Argentina: 150
Middle East: 33,472
Asia: 28,600
Africa: 11,793
US: 2,280,975
Other
Winter: 8,000
Kashmir siege: 875
India mobs: 15,000
Ethiopia: 2,580
Pakistan avalanche: 4,500
---
Emergency Relief
As we faced a once-in-a-lifetime pandemic, we combatted the spread and suffering caused by the coronavirus in more than 11 countries throughout Africa, Middle East, and Asia through emergency response distributions of food, personal protection equipment (PPEs), hygiene kits, preventative education, and awareness, COVID-19 testing, mental health counseling, warm meals, shelter, and cash assistance.
Your donations brought relief to impoverished communities and medical clinics around the world including Palestine, Kenya, Yemen, Mali, Uganda, Morocco, Pakistan, India, and more.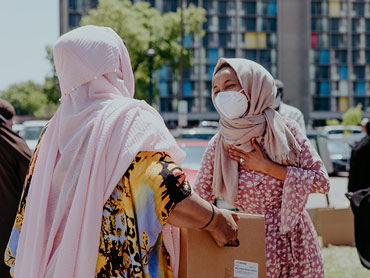 United States
You helped reach 2.3 Million American citizens in 62 cities across 15 states who were most affected by the pandemic, global lockdown, and economic recession.
You helped us package, truck, unload and distribute more than 1,300 tons (2,426,579 lbs) of farm-fresh produce, 15,270 gallons of milk, 105,000 lbs of dairy products, 70,650 lbs of non-perishable foods, 14,301 hygiene supplies, nearly 103,950 personal protective equipment (PPE) including N95 masks and medical gloves, and in emergency financial assistance, reaching a total of 2,280,975 people from coast to coast in the heart of store-shuttered, food-barren, protest-hit cities across the United States.
Several elected officials including U.S. Congressional Representatives Ilhan Omar, Marie Newman and Jesus "Chuy" Garcia, and over 70 corporate and non-profit partners joined us in the hand-delivery of relief packages to Americans in need.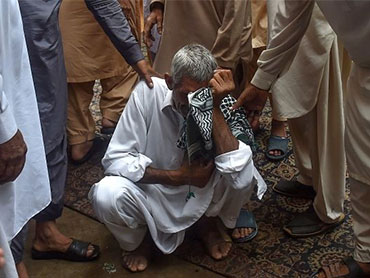 Kashmir
Zakat Foundation of America donors have supported Kashmiris — including orphans, widows, the poor and students in need — for more than a decade now.
This reporting year, Kashmir became the most militarized place on the planet as India's nationalist government forced the entire country of Kashmir into lockdown after adding 28,000 terrorizing soldiers along with the 670,000 armed military already there. Thousands of Kashmiris were arrested, most of them young men, seized in the night in their homes, beaten, then flown into India because Kashmir has run out of prison space.
In swift response to the siege, we worked with our local partner to break open a humanitarian corridor and reach 875 of Kashmir's victims with critical aid — including storable staples of food, as well as water, blankets, and heating resources.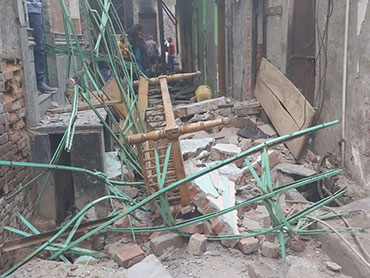 India
Savage riots against Muslims in northeast Delhi early last year left many mosques, homes and businesses torched and reduced to ashes. Families became homeless overnight, with nothing to eat. Victims fled to makeshift shelters in Mustafabad, and we immediately rushed to meet them there with life-saving food packs containing high-nutrition staples including rice, lentils, oils, masala spice powders, turmeric, flour, sugar, salt, and tea. Your donations provided this relief to 15,000 of India's victims
Pakistan
Your generosity helped us provide emergency food aid to 900 displaced and traumatized families in the Balochistan, Khyber Pakhtunkhwa, Azad Kashmir, and Gilgit-Baltistan provinces, benefitting a total of 4,500 people.
Ethiopia
With your generous donations, Zakat Foundation was able to rush relief to 2,580 people in the form of rice, milk, oil, and basic hygiene and household materials to the Tuli-Guled district of Ethiopia.
Food Security
For those who already live on the edge of starvation, the pandemic has been catastrophic. With your support, we delivered 8,383,277 life-saving meals in five continents, and we heard their grateful, passionate prayers for you. But we don't only relieve hunger, we make sure that our agriculture programs secure long-term food supply for a sustainable solution to the hunger problem.
8.3
Million Meals Donated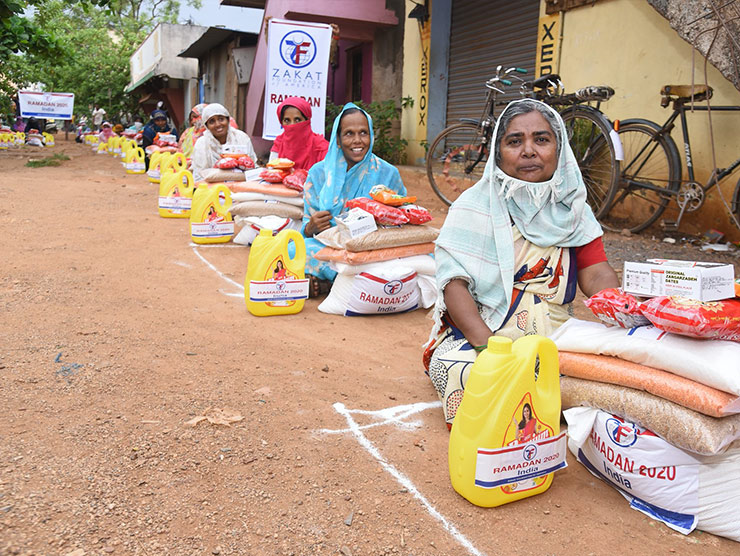 Ramadan & Udhiyah
The challenge of a worldwide coronavirus pandemic did not stop our Zakat Foundation workers from delivering your Ramadan and Udhiyah packages to the most vulnerable in 46 countries and five continents last fiscal year, reaching nearly 1 million of the world's most destitute in Ramadan, and more than 250,000 udhiyah recipients of your gifts of fresh — never frozen, never canned — sacrificial meat.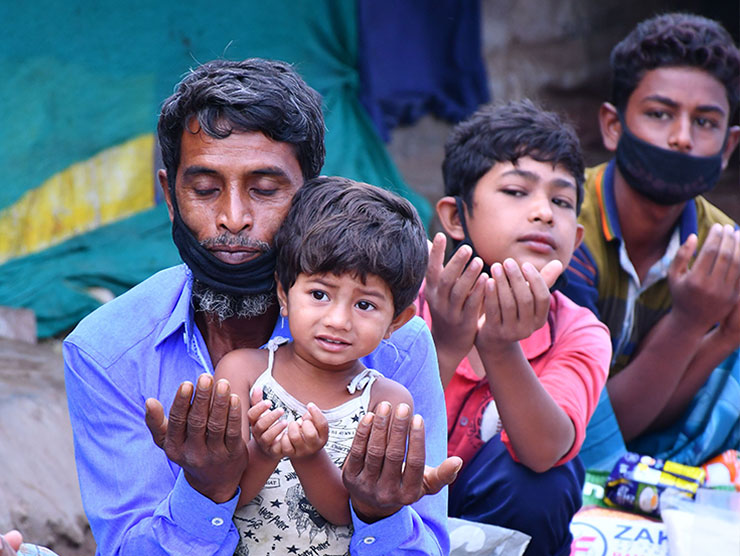 Three Million Pounds of Food
Zakat Foundation successfully delivered over 3 million pounds of food to the homes and hands of children, women, and men; those homeless or in make-shift shacks, jobless or financially insecure; here at home and across borders abroad, regardless of creed or color; day after day, month after month from the start of the pandemic and still ongoing!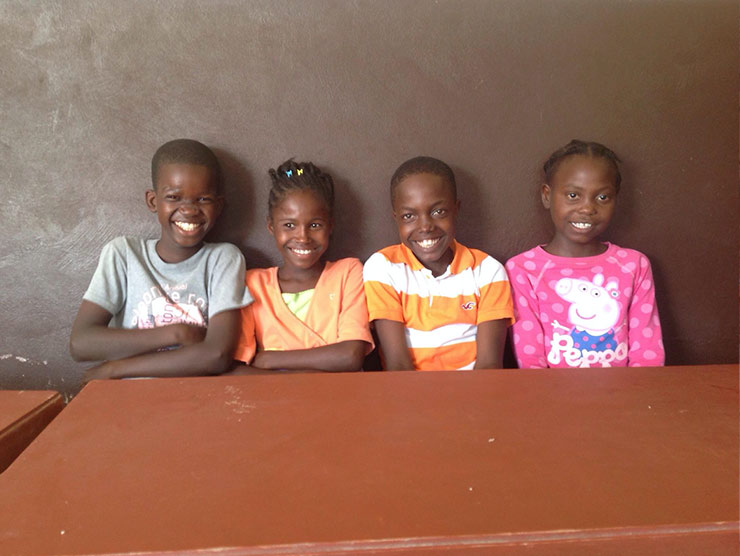 Hot Meals Year-Round
For over a decade, we have been providing hot meals to Haiti's malnourished and impoverished school children and their families in the Ti Plas Kazo community of Port-au-Prince, Haiti. Last year, we provided 48,000 meals total. These now well-nourished children can focus in class and gain an education for a hopeful future because of your support.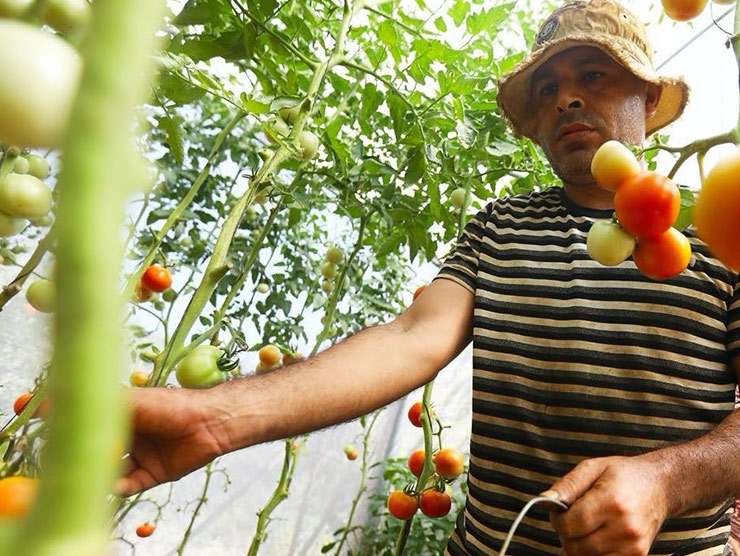 Greenhouse Gardens
2020 marked the third year of our Gaza Greenhouse Home Gardens project benefitting 384 Gazans with a 25 square foot greenhouse; along with fruit and vegetable seedlings; farming equipment; and greenhouse training on gardening, composting, pest control, and water conserving irrigation techniques for days when the water is cut off - a frequent occurrence in Gaza. This year we witnessed an increase in yield, year-round access to nutritious foods, and extra profit from sales which nearly doubled each household's income!
Sadaqah Jariyah
The Ever-Flowing Charity
The beloved of God (peace be upon him) was asked, "Which charity is best?" He simply replied, "Water."
Of all good things, among the best one can give to others is free-flowing fresh water, and a peaceful place to worship. This is a charity that gushes ever-flowing blessings into your afterlife, while benefiting the living poor.
44,572
People with Clean Water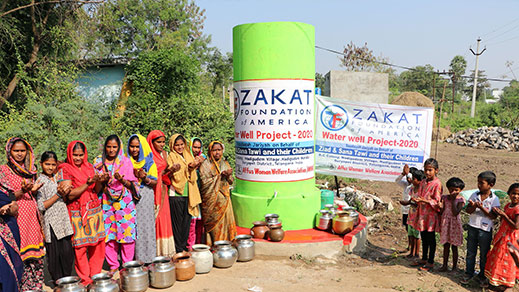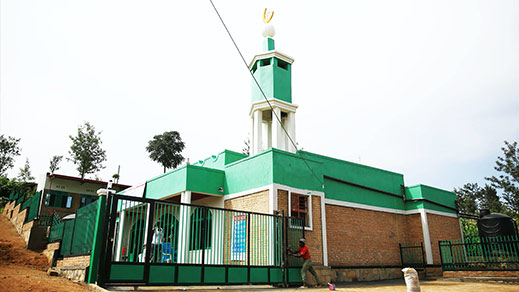 Livelihoods
A man in need once came to the Prophet, peace upon him. With his own blessed hands, he bound an ax-head to a handle and gave it to him. With this tool, the man fed, clothed, and sustained himself and his family.
You have given 14,672 poor people (particularly women) the means to uplift themselves and their families to financial independence so they can afford better health, nutrition, and education, and no longer need your donation. How? Through our thriving Livelihoods programs including animal husbandry, agriculture cooperatives, and vocational and entrepreneur training.
14,672
Lifted from Poverty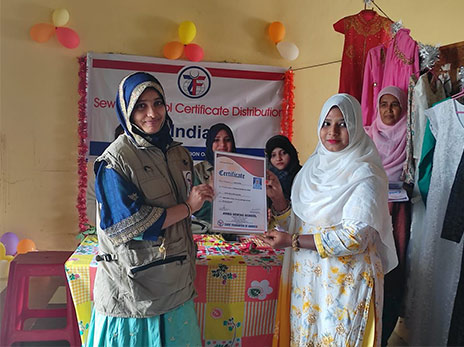 Entrepreneurship & Vocational Training
Your donations lifted 3,882 people out of poverty by teaching them marketable skills such as sewing and stitching, artisanry and craftsmanship, calligraphy, baking, web development and design, auto mechanics, computer skills, and more. With these empowering skills they have regained their confidence, entered the workforce, and now stand on their own two feet, no longer in need of your Zakat.
They are Syria's displaced and widowed mothers of orphans struggling to start over in Jordan and Turkey; they are Ghana's impoverished young men and women who cannot afford education; Bangladesh's mothers residing in shanty slum-dwellings; Kenya's refugee girls as young as 13-years-old fleeing rape and war; and poor women heads-of-household in the Dominican Republic looking for a sustainable livelihood. With proper training and tools now in hand, their lives are on the way to transformation — thanks to God's Grace, and to you.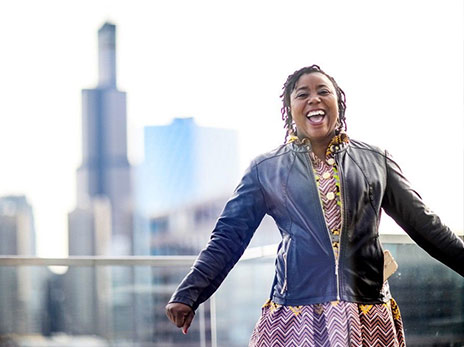 Job Placement for U.S. Refugees & Asylum Seekers
Through our partnership with Upwardly Global, we have eliminated employment barriers for immigrant, refugee, and asylum-seeking families with professional qualifications by offering job training and placement, facilitating 1,543 people's transition to financial security and socioeconomic integration into their newly adopted home country, the United States.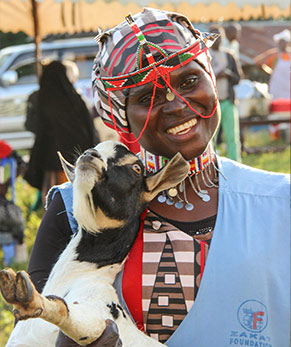 Animal Husbandry
Last year, your livestock gifts benefitted 8,503 people, including war-afflicted Yemenis in the cities of Al-Hudaydah and Dhamar; widowed mothers and guardians of orphans in Kenya, Uganda and Ethiopia; Internally displaced people (IDPs) of the Central African Republic and Ivory Coast; and the impoverished in Mali, Ghana, Burkina Faso, Niger, India and Bangladesh.
Our livestock husbandry program has saved many lives. We find the poorest of people off the charity-beaten path, those most marginalized and hardest to reach. Our field workers trek through vast rough pastures to find them, and when they do, they find families on-the-brink-of-death, in utter despair. We hand-deliver your gift of a mating pair of goats and then watch the family's transformation from poor, malnourished and hopeless to food-secure, self-reliant and a restored sense of dignity. The goats produce offspring to grow a herd and provide a daily supply of dairy-foods, some to eat and some to sell for profit. Most beneficiaries have demonstrated business savviness with your livestock gift; saving and investing in more income-generating assets until they become free from poverty, self-sufficient. Some have even become Zakat Foundation donors in return!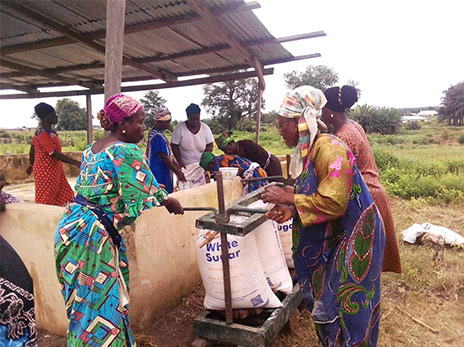 Women's Agriculture Cooperatives
We continue to give people access to a dignified livelihood through our agriculture programs. This year two farm cooperatives continue to benefit a total of 744 rural Ghanaians; turning the village women into business owners who now support themselves, their elderly, and their children, enabling them to go to school.
In the Jugboi and Bole districts of northern Ghana, these women process cassava — a carbohydrate-rich staple crop tolerant of seasonal drought — into flour, which is used in an array of local recipes from bread to pudding. With the training and equipment you provided them years ago, they continue to increase their production making the mills profitable for the entire community.
Orphan Care
One child dies every three seconds due to poverty, poor health care, and hunger. This makes an average of 10,000 child mortalities every day — most of whom are orphaned and abandoned children. Last year, your donations helped us reach 634,116 vulnerable children with life-saving aid.
Almost 10,000 children become orphans every day, according to UNICEF. There are at least 150 million orphans in the world, and actually, compelling evidence shows that this number is much higher — some say twice that number — as there are millions of more orphans not included in official statistics.
In this reporting year, Zakat Foundation of America's orphan sponsorship program benefited 6,726 poor and destitute orphans in 15 countries, providing nutrition, health care, education fees, and in some cases shelter. Your donations also reached more than 600,000 vulnerable or abandoned children with food, health and education programs.
This year we are significantly expanding our orphan care services to reach more children in need; we have already dedicated a staffed and well-trained department devoted solely to this purpose. Your continued support will be pivotal in helping us reach more children in need.
634,116
Children Reached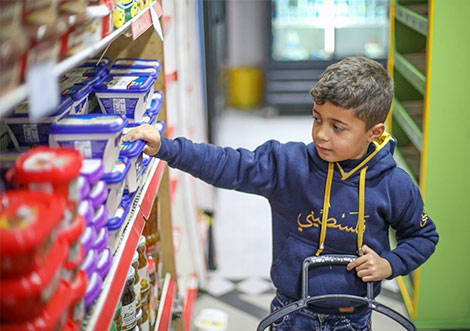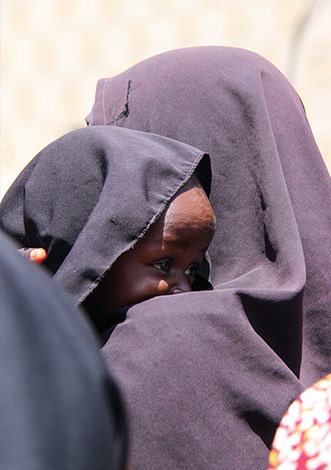 Health & Well-Being
Khalil Center, a Zakat Foundation project, is a psychological and spiritual wellness center that fuses modern psychology with Islam's rich tradition of mental health sciences and treatment.
Khalil Center's eight clinics throughout North America — and the rest of our mental health and special needs programs all over the world — have witnessed an increasingly dire demand for therapy services during this year of the pandemic with ever-growing waitlists of suffering people looking for specialized faith-based treatment. With your support, we have duly delivered. 193,306 people with mental health concerns and special needs have benefitted from our programs worldwide.
193,306
People Benefited
Mental Health & Special Needs
The number of beneficiaries served at this professional mental health care center that specializes in Traditional Islamically Integrated Psychotherapy (TIIP) has grown exponentially as compared to the last report period. Nearly 15,364 people received direct counseling services at Khalil Center's multiple locations including Los Angeles, Bay Area, New York, Toronto and Chicago.
To meet the demanding rise of depression/anxiety and an ever-increasing waitlist during this unforgiving pandemic, Khalil Center quickly hired more qualified professional staff and shifted to virtual platforms, making services accessible to the growing number of Muslims in need.
In addition to the full schedule of web therapy sessions, Khalil Center's outreach and education programming reached 174,587 beneficiaries through virtual support groups and webinars coaching people how to manage mental health and family dynamics during the unfolding pandemic, and how to cope with anger and grief around this year's tragic accounts of systemic racism and police brutality. Islamic and public school staff received training on how to support student stress related to academics and social isolation; community leaders and imams received training on suicide prevention and other mental health matters.
Zakat Foundation's partnership with MedStar Georgetown University Hospital (MGUH) and Palestinian Medical Education Initiative (PMED) provided mental health counseling and training sessions for Palestine's school teachers, students, and counselors to restore the emotional reslience and behavioral health of Palestinian children — a population suffering some of the world's highest PTSD rates.
Your donations toward health care have served the homeless and impoverished in five community health centers in Mali, four health facilities in Kenya, and a hospital unit in Sudan. They collectively deliver an array of services including reproductive care, nutrition counseling, chronic illness treatment, immunizations against preventable diseases, cancer screenings, general health care, and deliveries for pre- and post-natal mothers reducing maternal mortality. A total of 35,136 patients were treated through these services in this reporting period. Also, $600,000 worth of medical equipment was provided to the four health facilities in Kenya, benefitting a population of 400,000 underserved people.
For child victims of Syria's traumatic war, we provided life-changing psychological and rehabilitation treatment in Turkey's Southeast provinces of Gaziantep, Hatay and Mersin. Our free clinics treated 350 Syrian refugee children suffering developmental, sensory and brain trauma including hearing, speech, vision and cognitive loss due to war.
You helped us deliver direct lifesaving intervention treatment to 356 young at-risk mothers in Nairobi through our partnership with RefuSHE. Your support also reached 2,649 at-risk girls and women equipping them with sexual and gender-based violence prevention training through focus groups and community forums.
Health & Medical Care
Zakat Foundation medical centers around the globe have served a total of 54,735 homeless and severely impoverished women, children and men in some of the most marginalized and forgotten corners of the earth.
Our five health centers in Mali; our Mother & Child Health Care Center, mobile clinic, and extended at-home services in Bangladesh serving over 50 moms and tots each day; and the Ehsas free health clinic in Delhi India provide treatment for malnutrition, chronic illness, preventive care, maternity and reproductive health, free screenings and medications, basic health and sanitation education, and much more.
These health services you helped us to provide are a dream-come-true for people who lack access to safe water and sanitation and live in poor quality slum housing, or no housing at all.
You also helped us ship 12,000 medical supplies and equipment including transport hospital beds and specialized surgical and dental instruments to our health care programs in Bamako, Mali.
Education
You helped us give 19,743 of the world's most vulnerable people their dream of going to school.
Now they can imagine a better tomorrow — a future free from poverty. From early childhood education to primary and secondary school, and on through college graduate degrees and professional programs, our education services remain a critical cornerstone of our humanitarian work.
19,743
Given Education Access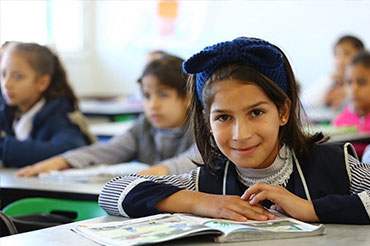 Educating Girls...
In Afghanistan, this year marks the 10th year we support the Farda-e-Afghan girls' school by funding tuition for 83 students, staff and teachers. Because of your unyielding support over the years, we've graduated 1,186 sharp and talented girls who are now economically independent and active contributors to the advancement of their society.
In India, you helped us educate 50 girls at the Jamea-tus-Salehat school founded by scholar Mawlana Yusuf Islahi motivated by his belief that educating girls can transform society. We too share his sentiment, that's why we partnered with Jamea-tus-Salehat to fund poor students' tuition and 10 teacher salaries.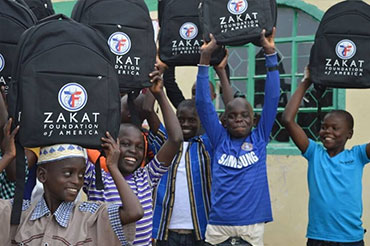 The Displaced…
Since the start of Syria's refugee crisis, Zakat Foundation stepped in to quickly fill the gap for millions of students — primary grades through college — whose education had been interrupted due to war. This last fiscal year, we continued to serve the internally displaced and refugee population with our education programs reaching a total of 19,206 displaced Syrians in Turkey, Jordan, inside Syria, and some knowledge-seeking Turkish students too which has helped to build bridges between the refugee and local population. You helped build their capacity to learn and lift themselves out of despair, gave a voice to the once-silenced, and you shared our belief that education creates a powerful antidote to unrest, distrust, and war.
… And the Disadvantaged
In Ghana, a school we built in 2016 for a remote and marginalized community enjoys its fifth year of earning top ratings in the country. Its students are a clear example of what children can achieve if given an opportunity. Built by our donors as a sadaqah jariyah, the blessings of this school continue to lift and empower its students who may now look forward to a hopeful future.
Orphans in Nepal and children living in slums of Bangladesh also attend Zakat Foundation's full-time quality education programs equipping them with the necessary foundation for a successful, self-reliant, poverty-free future.
In U.S. innercity communities, our continued support for Chicago Youth Centers serving Chicago's distressed and underserved south side neighborhoods has empowered youth through STEAM (Science, Technology, Engineering, Art, Math) developing their skills and ensuring access to these critical and competitive academic subjects so they may dare to dream for a hopeful tomorrow.
In Dominican Republic, our very popular after-school English classes give elementary and junior high school students the critical and rare advantage of attaining English fluency, which is recognized by the community as a key skill for escaping poverty. This service has been offered for 6 years now and has graduated 420 children total.
Protecting the Right to Give
Zakat Foundation is honored to advocate for your philanthropic rights by representing your voice in thought leadership, charity coalitions, and advocacy work.
Advocating for Your Right to Give
InterAction
Zakat Foundation is an active member of InterAction — a coalition of nearly 200 U.S. non-governmental organizations (NGOs) working to eliminate extreme poverty, safeguard a sustainable planet, and ensure dignity for all people.
Our participation with InterAction provides us a platform to learn and share best practices, nurture partnerships with global leaders in humanitarian service, and to share our Muslim-American story with fellow faith-based and other American charities. On your behalf, we have built critical alliances with global leaders to help open the channels for just and fair treatment to overcome the unique obstacles Muslim charities face.
Together Project
Zakat Foundation is also a founding member of the Together Project — a coalition of U.S. Muslim charities to lift the profile and facilitate the integration of Muslim-run charities with other faith-based humanitarian organizations.
Last year marks five years of our continued efforts to meet with members of Congress to nurture understanding and protect funding for our humanitarian work. Not only have we created awareness about the domestic and international impact of Muslim-American giving, but we also successfully collaborate to address misinformation and political attacks against any associate charity.
Charity and Security Network
In Zakat Foundation's capacity as an advisory member of the Charity & Security Network, we meet with agencies, lawmakers, and government to make laws easier for U.S. citizens who would like to donate to fragile political areas including Syria, Yemen, Occupied Palestine, Congo, Venezuela, and Iraq. Because of our policy recommendations, laws are in the process of changing to make it easier for Americans to give to Muslims in need abroad.
The Zakat Foundation of America Statement of Activities
For the year ended June 30, 2020
Support And Revenue:
Contributions
$ 12,914,855
In-Kind Contributions
$ 426,396
Investment return
$ 3,446
Miscellaneous income
$ 6,945
Total support and revenue
$ 13,351,642
Expenses:
Program services
$ 9,250,919
Management and general
$ 1,351,318
Fundraising
$ 865,106
Total expenses
$ 11,467,343
Change in net assets
(1,884,299)
Net Assets
Net Assets at Beginning of Year:
$ 7,608,786
Net assets at end of year
$ 9,493,085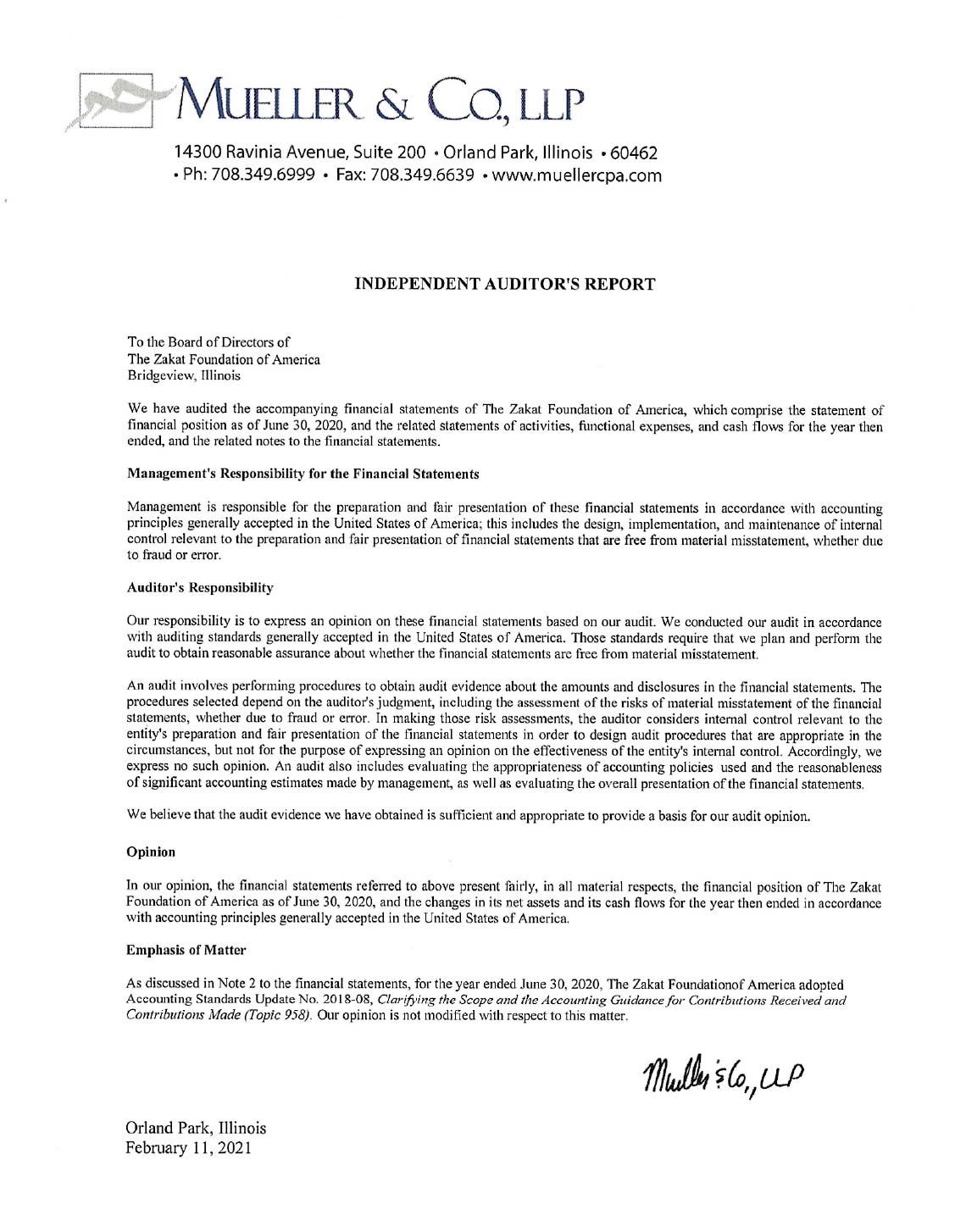 Executive Director
Halil Demir
Chair of Board
Hasan Arslan
Vice President
Mehmet Tarhan
Board Member
Fatima Khalil
ADAMS Center
ANC,Advisory Neighborhood Commissions DC
ANERA,American Near East Refugee Aid
ARISE Chicago
Bloom Township Food Pantry
Bridgeview Village Mayor's Office
C&SN, Charity & Security Network
CAIR MN, Council on American Islamic Relations
Chicago Council on Global Affairs
Chicago Dream Center
CIOGC, Council of Islamic Organizations of Greater Chicago
Chicago Youth Centers
Downtown Cluster of Congregations
Duke University
DuSable Museum of African American History
Episcopal Relief & Development
Family Promise of Delaware County
FDLA, First Defense Legal Aid
Feed the Children
Gorham United Methodist Church
Grace and Peace Church
Heartland Alliance
Illinois VOAD,Voluntary Organizations Active in Disaster
Indiana University: Lilly Family School of Philanthropy, Lake Institute on Faith & Giving
InterAction
IOM, International Organization for Migration
IRC, International Rescue Committee
Islamic Center of Detroit
Islamic Relief
Jewish Voice for Peace
Lakeview Pantry
Lincoln United Methodist Church
Mercy Corps
MGUH, MedStar Georgetown University Hospital
NGO source
Northern California Islamic Council
PCRF, Palestine Children's Relief Fund
Pilsen Neighborhood Community Council
PMED, Palestinian Medical Education Initiative
Proviso Baptist Church
RefuSHE
Relief International
Ronald McDonald House Charities
SOS Children's Villages
Spanish Community Center
Stanford University Department of Psychiatry and Behavioral Science Muslim Mental Health Lab
TechSoup
The Resurrection Project
Thornton Township Food And General Assistance Center
UNHCR, United Nations High Commissioner for Refugees
UNICEF, United Nations International Children's Emergency Fund
UNRWA, United Nations Relief and Works Agency
Upwardly Global
USA for UNHCR, the UN Relief Agency
USDA, United States Department of Agriculture
What If Foundation
Corporations
Cricket Wireless
Dearborn Wholesale Grocers
Desert Ridge Packaging, LLC.
Foster-Caviness Company, Inc.
Global Trading Enterprises, LLC
Gourmet Gorilla
Hyer Farms
Liberty Fruit Company, Inc.
Luberski, Inc.
Pita Inn
Produce Alliance, L.L.C.
Produce Source Partners, Inc.
Seashore Fruit & Produce Company
Tomato Thyme Corporation
Warden Hutterian Brethren Company
Ziyad Brothers Importing